Jumpstart Your Marketing With An AppFolio Property Management Website
Select from a variety of professional and modern website designs so you stand out from the crowd.
Your website uses your domain (www.YourCompany.com) so you continue to reinforce your brand. The property management website designs are built with lots of thought about the best practices for property managers. For example, there are specific sections for owners and residents.

Purpose-Built For Property Management
AppFolio Websites are 100% integrated with AppFolio Property Manager so you can seamlessly accept rent online, post and update vacancies with a few clicks and accept online maintenance requests that automatically create work orders.
| | |
| --- | --- |
| One corporate website, built for your brand | |
| 100% intergrated with AppFolio Property Manager | |
| Mobile friendly with responsive design | |
| Basic Search Engine Optimization (SEO) | |
| Individual sites customized for each property | |
| Google Analytics account provided | |
| Social media intergration | |
| Blog | |
One-Time- Set-Up Fees
$1,000
Monthly Fees (Per Site)
$50
Website Features
One corporate property management website, built for your brand
URL uses your company domain (www.yourcompany.com)
Select from a collection of purpose-built sites with a variety of color combinations and designs
100% integrated with AppFolio Property Manager
Post, update, and remove vacancies with a few clicks
Residents can pay rent online with ease, and bank grade security
Online maintenance requests create automatic work orders, right from your website
Mobile friendly with responsive design
Looks great and easy to navigate from any device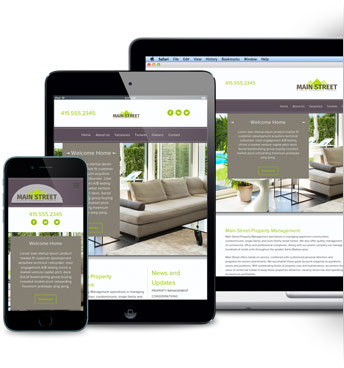 Basic Search Engine Optimization (SEO) based on popular industry terms and your geographic location, so more customers can find you
Keywords Defined
Meta Descriptions
Page Titles Created
Individual sites customized for each property
Variety of customizable templates to create unique sites for each property
Image galleries for each property allow you to showcase amenities, interiors and other creative marketing photos
Include floorplans for each layout
Google Analytics account provided
Site tracking metrics
Analysis of traffic and visitors
Social media integration
Facebook
Twitter
And many more…
Blog
Website specific blog or RMS feed compatible