Property Management Marketing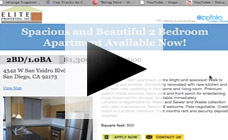 AppFolio includes many opportunities to more easily and effectively market properties so you can dramatically increase the number of places potential renters can find your rental units.
Because all of the property management marketing information is centrally stored in AppFolio, with a few clicks of a button you can:
Post vacancies directly to Craigslist, using a professionally designed ad with multiple photos so your rentals stand out from the crowd.
Embed YouTube videos in all listings to speed the leasing process.
Update / remove vacancy postings on your website. You display only the most accurate information, the listings are professionally designed and very easy to navigate.
Post vacancies to over 100 rental listing sites on the Internet.
Post vacancies to partner site RentBits.com, Rentmyhome.org, Apartments.com, RentalHomesPlus.com and FreeRentalSite.com
Property management marketing in so many places means you'll fill vacancies faster.
"We can statistically prove to our owners that we occupy units faster."