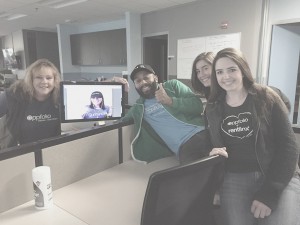 How long have you been at AppFolio?
Almost 4 years.
Tell us a bit about your professional background. How did you arrive at AppFolio?
After graduating from UCSB, I knew I wanted to travel so I decided to become a travel agent. However, in order to do so I was advised that I'd have to attend Travel School. So I worked 40 hours a week at a family run china store and attended travel school at night, eventually earning a second Bachelors degree. After becoming a travel agent, interestingly enough I handled a few trips for AppFolio's President/CEO (before AppFolio existed). Years later he would hire me at Expertcity (eventually acquired by Citrix).
Skip forward to 2012, I ran into a former colleague, Kim Coalson, in front of the local Arlington movie theater one afternoon. We had also previously worked together at Expertcity. She invited me for coffee, we met, and a week later I was onboard.
What's most gratifying about your position?
Helping our customers and their applicants. I manage our Consumer Relations team. We help applicants obtain a copy of their tenant screening report and file disputes on their behalf with our court data providers and Experian if something is incorrect on their reports. We are also a dedicated resource for our property managers when they have questions about our screening reports, which include credit, criminal, eviction, and Experian RentBureau rent payment history.
I always consider it a great opportunity when we get to work with our customers and their applicants. It's never a dull moment in Consumer Relations!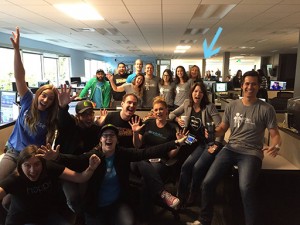 What do you like about working at AppFolio?
The people! We hire the smartest, nicest, funniest, hardest working people around, which creates such a fabulous work environment. There are a lot of great, happy people here who do the right thing. Who could complain about a work culture like that?
What is your favorite moment at AppFolio and why?
Ohhhh, there are so many, but I'll say our holiday parties are a big favorite of mine. In the past, the holiday parties have been theme costume parties and frankly, seeing our CEO, Chief Strategist, and CTO dress up in white suits like Tony Manero from Saturday Night Fever? Well that was pretty over the top!
Tell us a little about your personal background. Where you are from, family life, etc.
I was born and raised in Madera, CA, a small agriculture town located in central California. I moved to Santa Barbara to attend UCSB and after graduating just stayed right here in paradise. I have three grown children and am now an empty-nester. My amazing roommate is a 20 lb. black cat named Panther. The joy of my life however is my 18-month old granddaughter. She makes me laugh, and laugh, and laugh and she really fills up my heart.
What's something really interesting or unique you'd like to share? (Hidden talents, hobbies, collections, funny stories)
Interesting or unique? Tough question. I really don't know. No hidden singing abilities, dance moves or foreign languages. Like most people I love to travel. I'm a good listener. Some of my best friends are ones I met in the 2nd grade. Other than that I think I'm just a pretty regular gal.
Meet some other members of the AppFolio team:
Conner Cherland, AppFolio Website Production Specialist