Last modified on October 17th, 2019
By Megan Eales Monroe
Each fall, hundreds of AppFolio users arrive in Santa Barbara, California for the Annual AppFolio Customer Conference. More than 800 of our customers joined us this year for three days of hands-on workshops, info-packed breakout sessions, and inspiring keynotes.
At AppFolio, listening to our customers is in our DNA, and we eagerly await the product feedback and ideas shared with us at the Customer Conference to constantly improve the solutions we offer.
This year, we learned so much from our attendees — but also from our brilliant speakers and presenters. In honor of the 7th successful AppFolio Customer Conference, here are 7 takeaways from this year's event:
1. Happy Employees = Happy Customers
Finding and keeping the right employees is a growing concern for property management companies in 2019. In AppFolio's recent research with John Burns Real Estate Consulting, property management companies ranked this as the #1 challenge inhibiting business growth. All five of the top challenges were also related to people and processes.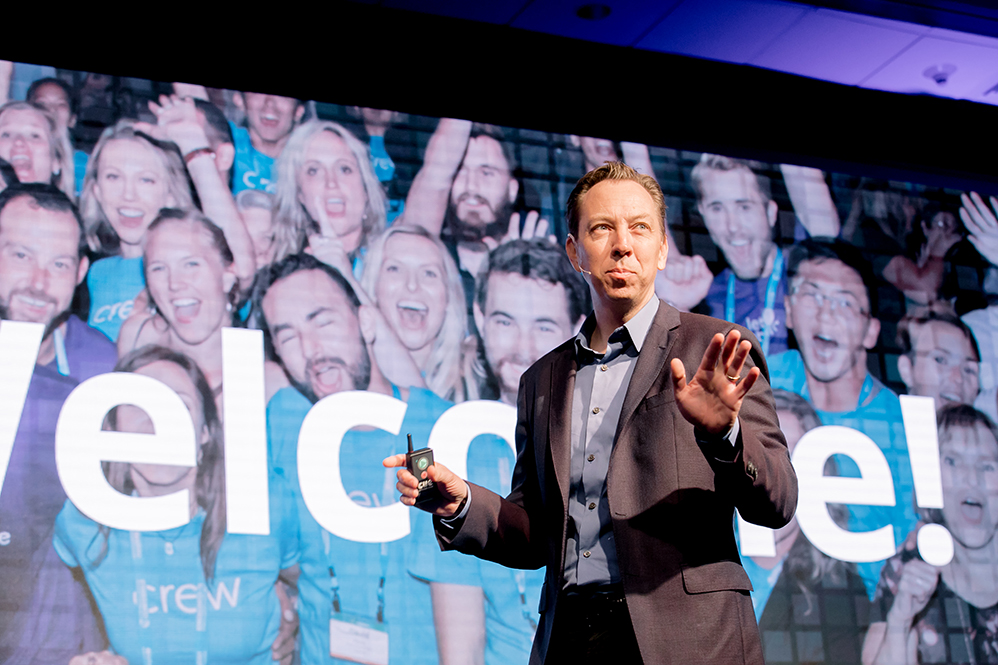 To kick off the conference, AppFolio CEO Jason Randall spoke to the importance of building a strong company culture in order to attract and retain the best talent:
"You can have a great strategy, a great plan, great tactics to do whatever you're trying to achieve. But culture amplifies that. It makes it much easier to get to where you want to go if you have a great culture to build on." 
He emphasized that this is not only an area of opportunity for property management companies, but it's also something that AppFolio takes seriously, which plays a big role in AppFolio's award-winning customer service. 
"This is how we think about building culture — it's an ongoing investment. We want to hire the best people we can find, and give them room to grow. Happier employees absolutely equals happier customers. We truly believe this."
To find and keep employees with the skills you need, start by providing resources for your employees to grow professionally, rethinking cumbersome manual processes, and leveraging the latest technological advances to make your team's work more meaningful. 
2. The Future of Real Estate is Data & AI
Recent advancements in artificial intelligence (AI) and machine learning have unlocked major benefits for companies in every industry, including real estate. 
AppFolio VP Elliott Burris shared a bit more insight on exactly what AI is: 
"AI is the field of research to build computers that can think and make decisions on their own… 
Instead of pre-programming logic into a system, machine learning works by building an algorithm, or a mathematical equation, that analyzes millions or billions of data points… This allows the computer to make its own assessments and decisions."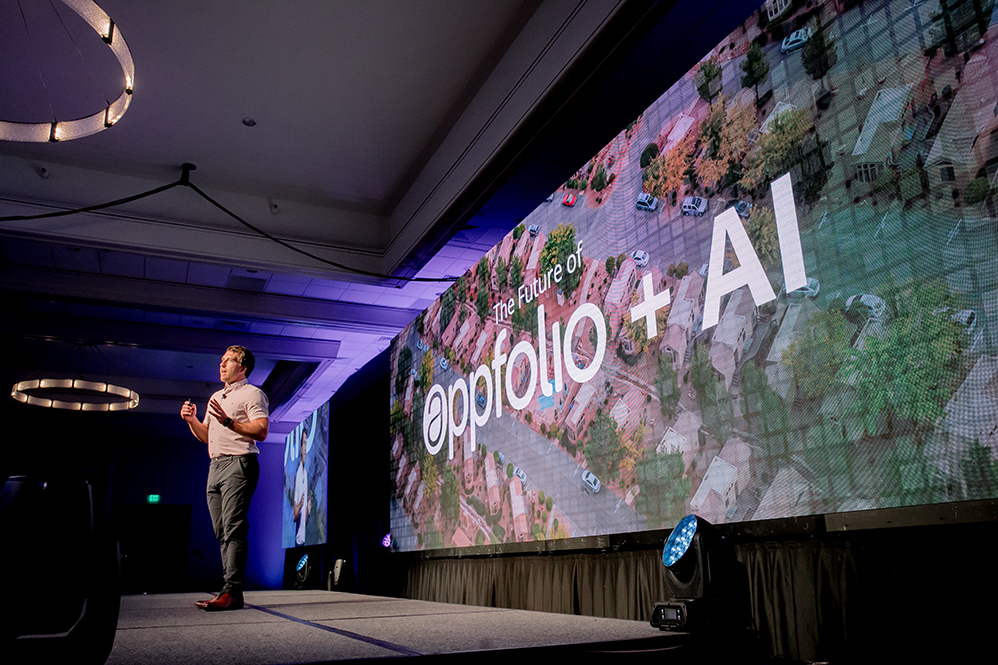 Beyond that, Elliott also explained how AI is already transforming the real estate industry, and what this means for AppFolio users:
"It's obvious AI is transforming everything from transportation to translation, and what I'm happy to report is AI is also coming to real estate. In fact, it's already transforming this industry. When you think about it, real estate is particularly well-suited for the AI revolution… We're excited to build you products and  deliver you solutions that build on this promise of AI in real estate."
One of those products is Lisa, a fully AI-powered leasing assistant. Lisa quickly and consistently provides thoughtful, friendly answers to renter's questions, and she can even book or reschedule showings, qualify prospects, and cross-sell other available units, while continually learning over time from her interactions.
3. The Multifamily Market Outlook is Strong
AppFolio's Senior VP Nat Kunes also shared some highlights of this year's market outlook. The multifamily market in particular stands out as a bright spot, in terms of both capital flow and investor outlook.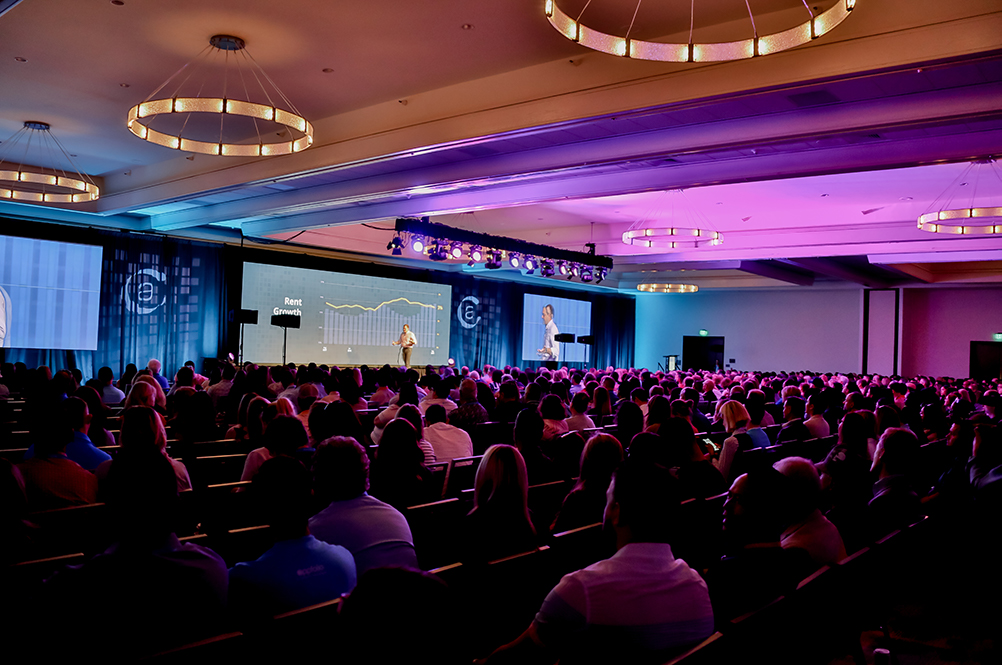 Nat explained, "If we look at capital that's flowing into the market, it was actually a really strong year from a capital perspective. We're expecting over 1.9 million new units to be added to the market in 2019 alone… That's a 32% increase in multifamily year over year."
Of the 1.3 million new units added to the market in 2019 in all sectors, Nat revealed that the majority of them were in multifamily, where 800,000 new units were added. 
Another factor contributing to the surge in the multifamily market is the need for higher housing density in many urbanizing areas, which has resulted in a slight dip in total number of buildings housing between 2-4 units, since many of them are being replaced with larger multifamily buildings. 
4. Community Associations Are On The Rise
In addition to the bright outlook facing the multifamily market, Nat also shared some exciting trends in the community associations space.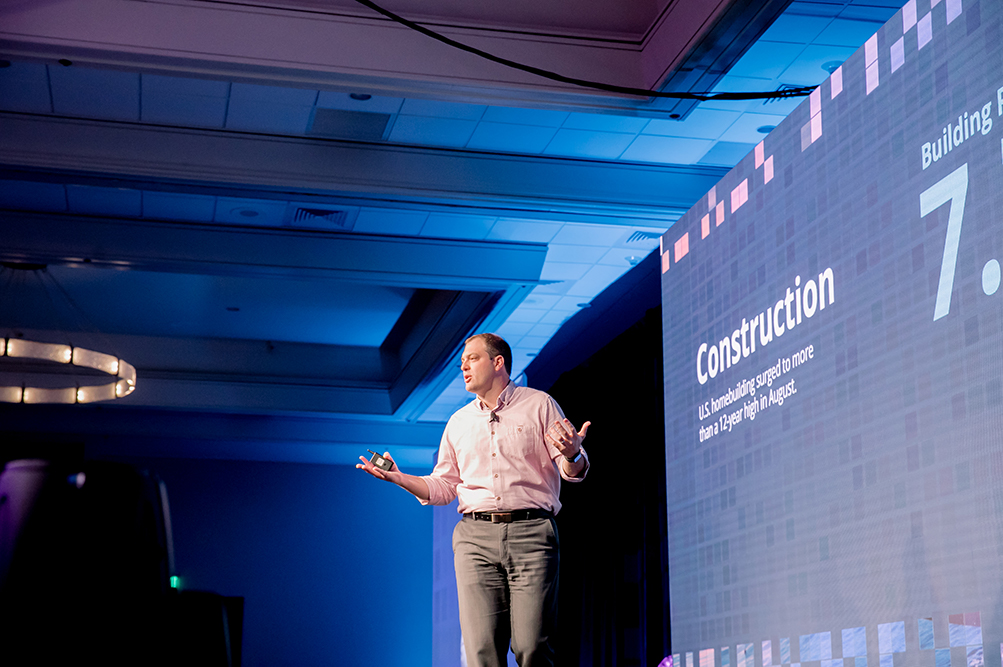 There are almost 27 million community association units on the market, which includes single family homes in communities with HOAs, as well as condo associations, with about a half and half split between each of the two types on the market.

Nat shared, "The thing that's most interesting to me about community associations is the sheer reach… Over 69 million Americans live in a community association today. The thing that's even more striking is that 61% of all new construction, new developments, are part of a community association. So again, strong growth, and that's going to continue as all this new construction comes on the market." 
Could this be a new opportunity for your business? According to Nat, "If you're looking for an interesting area of business to maybe expand into, community associations could be that bet." 
5. The Best Way to Market is For Your Customers to Do it For You
Attendees at this year's event were treated to an insightful and idea-filled keynote from Jay Baer, New York Times Bestselling author and founder of digital strategy consulting firm Convince & Convert.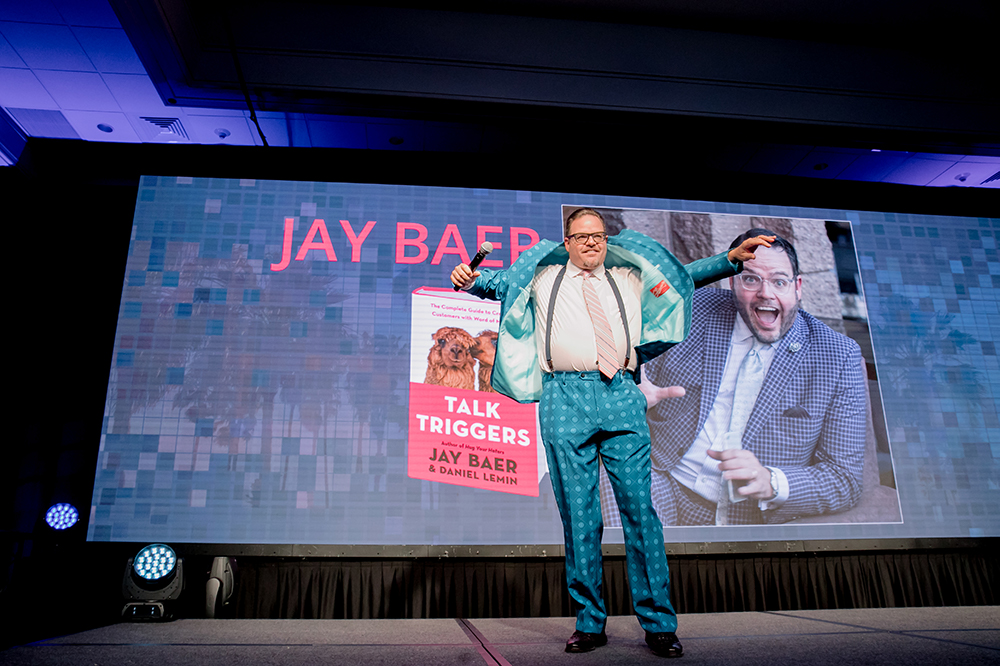 Jay explained just how important word of mouth marketing is for real estate and property management companies. "We know word of mouth is so important… we just take it for granted. We just assume that if we run a good business that our customers and potential employees will just notice that and talk about it. But that's not actually the way human beings behave."  
Although word of mouth influences 50% of all purchases, and 91% of B2B purchases, fewer than 1% of businesses have a word of mouth strategy.
Jay's remedy? The talk trigger.  According to Jay, a talk trigger is "an operational choice that creates customer conversations."
A talk trigger has four main characteristics: First, it's remarkable. It must be something that your customers notice and are compelled to tell stories about. Second, it should be repeatable, so that you can provide the same remarkable experience to each customer. It must also be reasonable, to avoid making your customers skeptical, and finally, relevant to the product or service that you provide, so that it will make current and future customers remember and want to do business with you. 
At the end, Jay gave out signed copies of his latest book, "Talk Triggers." Check out Jay's full book list here, and don't miss out on his forward-thinking blog and podcast. 
6. Fair Housing Compliance Remains a Major Focus
In a special breakout session, "Fair Housing & Compliance in 2020", attendees heard from Puneet Singh, managing partner at PKS Law Group. She shared some eye-opening facts about the persistent reality of housing discrimination — in 2017, the most recent year for which the National Fair Housing Alliance reports data, there were 28,843 reported complaints of housing discrimination across the USA. 
57% of those complaints were due to discrimination based on disbility status, while 19% were based on race, 9% were based on familial status, and 7% were based on national origin. Puneet shared some important considerations for property management companies to keep in mind as they navigate fair housing and compliance, including some clarification around reasonable accommodations and reasonable modifications for those with disabilities, context on the current laws regarding assistive animals, and tips for preventing discriminatory vacancy ads.
Check out the PKS Law Group blog here for more helpful information on fair housing compliance.
7. Authenticity is an Essential Ingredient in Your Personal Brand
Lisa Trosien, aka "The Apartment Expert," also presented a high-value breakout session called "Branding: Your Secret Weapon in a Saturated Market." She shared tips for leasing professionals to set themselves apart, as well as the communities they represent, by creating an authentic, memorable personal brand. 
According to Lisa, "A personal brand is your attitude about your work, your process, your personality."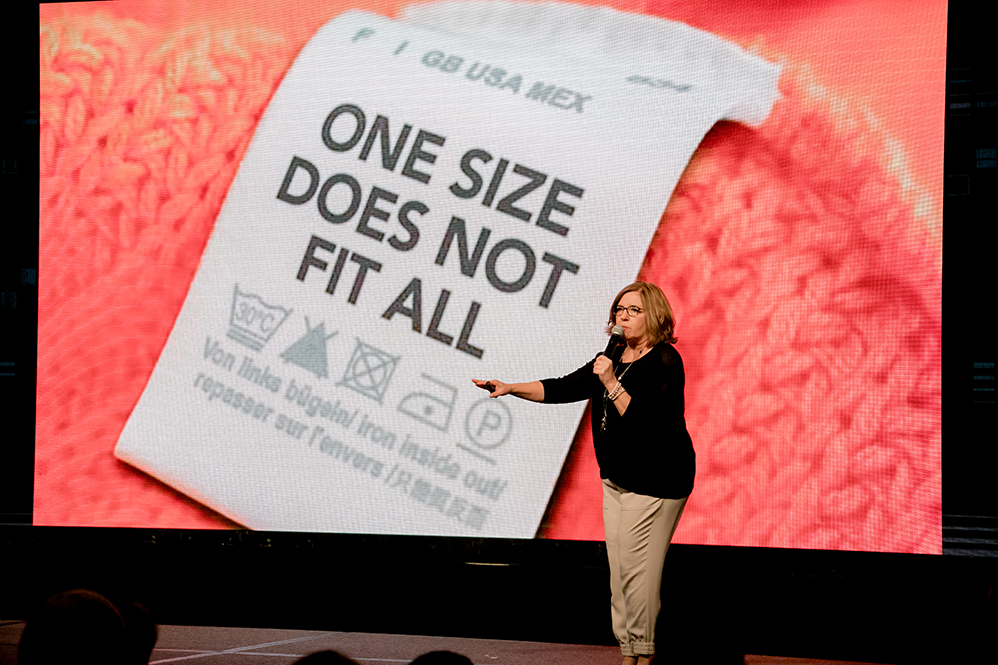 Her advice for leasing professionals looking to build stronger relationships with prospective renters is to "Start by focusing on the customer, not on your community." For example, instead of diving straight into all the amenities your community has to offer, take some time to ask questions that help get to know the renter and reveal what matters most to them, such as, "Which room in your home is most important to you?" 
You can learn more about Lisa and find even more helpful tips and advice on her blog.
More Highlights
Although attendees come to Santa Barbara each year to learn, along the way there is tons of fun to be had as well. Check out this video for some of the best highlights from this year's Customer Conference.