Last modified on October 26th, 2022
By Rae Parker
This fall, we were excited to welcome back AppFolio users to Santa Barbara, California for the 10th annual AppFolio Customer Conference. More than 800 of our customers joined us in person to gain fresh perspectives for their business in a conference that featured an inspiring message from our keynote speaker, Suneel Gupta, a full day of in-depth product trainings, and two days of valuable educational sessions. For the first time, we tailored the conference specifically for those who use AppFolio Property Manager and AppFolio Investment Management. 
This year's conference theme, "Where industry meets innovation," showed AppFolio customers how they can put our powerful platform to work to energize their business and jump-start their futures. In honor of the 10th year of the AppFolio Customer Conference, here are 10 takeaways from this year's event:
1.) You never stopped, so we never stopped
To kick off the conference, General Manager of Real Estate, Shane Trigg, gave a powerful opening welcome, thanking you, our customers, for the resilience you've shown over the last two years. Navigating through a pandemic, maintaining good business practices, and creating positive experiences for your residents was no small feat — but because you pushed forward, so did we. 
"When it felt like the entire world stopped, you didn't," Shane said. "We leaned into our values, embraced every employee, and found new ways to connect and listen to all of you to continue to deliver the product innovation you needed to rapidly respond to and transform your businesses."
He emphasized that over the last two years, you were able to inspire your teams, adapt to challenges, and stay resilient in the face of uncertainty. While the world around us continued to change and evolve at a rapid pace, you stayed steadfast and accomplished your goals: to enable operational excellence to free your teams to focus on what matters most, to deliver exceptional experiences for your customers, and to maximize your growth and help you reach your best potential as a business. 
Each quarter, we recap the latest innovations and feature enhancements made within our software aimed at helping your business make tremendous strides. Take a look at what was released in the first, second, and third quarters.
2.) The magic of AI
Found almost everywhere, AI is a powerful tool that can unlock your business' potential. Cat Allday, Vice President of AI and Product Operations, spoke on "the magic" of AI and how it can help solve real challenges for your business: "When technology is truly working, it's almost indistinguishable from magic, and we are hard at work to deliver moments of magic for you each and every day."
The magic of AI lives through our products, such as Lisa, the AI Leasing Assistant, which helps schedule prospect tours; Smart Bill Entry, which fills in all bill details from vendor invoices automatically; and Smart Maintenance, which can prioritize an urgent maintenance request from your residents. Automation, insights, and recommendations power all of these innovations and more — allowing you to make better business decisions faster than ever before.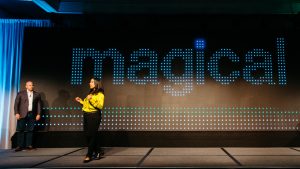 In the session "Developing AI products at AppFolio," Cat and a panel from the AI team discussed what you should know about AI and how AppFolio continues to develop solutions for your business: 
Incorporating AI into your day-to-day can remove many mundane tasks and allow you to do things that are considered "not possible", such as deciphering and translating data to make smart business decisions.

The development of such products follows a rigid process that includes engaging with customers and reviewing and researching suggestions from the

user community

to fully understand your needs and problems and find opportunities to apply technology to improve your life.

Our development team of product managers, designers, and engineers then work together to craft innovative solutions that are tested and validated by customers to make sure they fit your needs and achieve your goals. 
3.) Exceptional experiences for all
Retention of residents and employees is a key factor in the success of our industry. One way to achieve this is to incorporate technology in an effective way to show your residents and employees that empathy is a priority in your business. In the session "Making empathy your secret weapon for smoother operations," we learned that sustaining a workplace culture that meets employees' needs can ultimately lead to increased revenue growth and profitability. 
Here are some key takeaways from this session:
Customer service is synonymous with being quick, clear, and kind.

When your employees feel understood and supported, their engagement and performance improves. Additionally, when a customer feels heard and understood, their experience is that much better. 

You have an opportunity to provide great customer service across a resident's journey. Making a great first impression and communicating clearly and honestly helps save valuable time, reduces any confusion, and ultimately "wows" your residents.

At some point, a resident may decide to part ways with you, so it's important to ensure that the final part of their experience is good as well. Doing things like starting the renewal process early or finding other ways to be helpful in the moving process can leave the resident with positive, lasting impressions that can result in future referrals. 
4.) Innovation you can count on
The biggest announcement made during the conference revealed the latest innovations rolled out for AppFolio Property Manager. Our value of "Listening to customers is in our DNA" couldn't ring more true as we listened to what was most important to you through our online user community suggestion board. We received 107 ideas with close to 20,000 votes. 
These exciting innovations will help eliminate your busywork:
Bank Feed: Our smart accounting tool automatically imports bank transactions and simplifies reconciliations, helping you keep cleaner books while freeing your team to achieve more.

Smart Ensure

: This program tracks coverage of your units and allows you to add liability coverage to uncovered units and pass the cost on to your residents.

Automated Management Fees: To reduce manually calculating or creating management fee bills, you can now set up automated recurring charges, along with percentage or flat rate fees, and can pre-set future rate changes.

Refunding security deposits online: Instead of tracking down mailing addresses or cutting paper checks, you can now refund your residents electronically.

Additionally, Apple Pay is now an available payment method for residents. In just a few clicks, they can pay their rent right from their phone.

AppFolio Stack™

: Connecting the industry's best proptech solutions with our easy-to-use platform, supercharge your business with our growing list of integration partners, which now includes Lead Simple, zInspector, PetScreening™, Opiniion, Homebase, 30 Lines, and ShowMojo.

Short Term Rentals

: Introducing StayManager, a new way to manage your short-term rentals directly through AppFolio Property Manager.

Affordable Housing Subsidy Toolbox

: New capabilities, including bulk subsidy receipts, pre-payments, and case manager tracking, offer greater support for project-based Section 8 and improve existing LIHTC and Housing Choice Voucher capabilities.
We couldn't be more excited to deliver the new innovations you've been looking for. Take a look at what else was released in our Fall 2022 Showcase.
5.) Creating happier cultures
Staffing continues to be a dominant and critical topic in our industry, but are we on the other side? Stacy Holden, Sr. Director, Industry Principal, provided insights on the subject, stating that we're still competing for top talent, even across multiple industries. According to Gartner, 65% of employees are rethinking where work fits within their lives. 
Stacy went on to say that people are reevaluating and reprioritizing how they spend their time, wanting to do things that are more meaningful and purposeful. "We all want our teams to live their best lives, but creating the ideal work environment today is so important, especially if we want to keep the rockstars on our teams," Stacy explained. 
Partnering with the Institute of Real Estate Management to conduct a survey of your peers, we found that property management employees say that 40% of their time is spent on busywork. As an industry, we have to change the way we do business — and that's where technology comes in. In a final comment, Stacy drove home this point: Let technology do what technology is good at so your people can do what they're good at. Your team expects technology today to enable them to focus on what matters. 
6.) "The game of now," as told by Suneel Gupta
Attendees at this year's event were in for an inspiring and relatable keynote from Suneel Gupta, bestselling author of Backable and CEO of Rise, a breakthrough wellness company. 
He wasn't shy about sharing his own business failures, letting the crowd know it's okay to wear your failures on your sleeve. "People who lose momentum or fizzle out very rarely run out of time or talent. They almost always run out of energy," he said. "It's not that they don't have great ideas or the resources to pursue it, they just simply don't have a lot of gas in the tank. They become exhausted."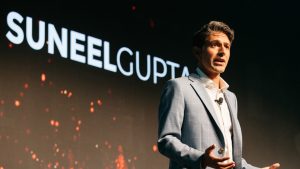 He went on to say that in business, there are plenty of conversations around "financial runway" — that is, whether we have the capacity to get a project, team, or idea off the ground. But what's rarely talked about is if we have enough emotional runway — do we have enough gas to do the things we want to do? Suneel gave us three ways to build and preserve our own emotional runway to be a better leader, contributor, and creator and have a bigger impact on the world around us:
Flip outsiders into insiders. Include others in your problems

and

solutions.
Practice rhythmic renewal. Using the 55/5 model, for every 55 minutes of work, take 5 minutes for rest, as this helps energize us, boost productivity, and spark creativity. 

Build your circle. High performers never do things alone and almost always have a circle of people they can be vulnerable and honest with. This includes a collaborator, coach, cheerleader, and critic.
7.) Affordable Housing at AppFolio
Affordable housing continues to be a hot topic, and during the opening session, AppFolio innovation leaders were excited to share ways we are investing in affordable housing capabilities. Whether you accept LIHTC or Housing Choice Vouchers, our newest tools support your processes and compliance needs.
In the popular "AppFolio, affordable housing, & you" session, attendees learned about features that can help support affordable housing efforts. Our Subsidy Toolbox includes all the necessary functions in AppFolio Property Manager to more easily manage and account for your subsidized residents. Within the toolbox, you have access to manage your subsidy program, create subsidy receipts, track subsidy G/L, and get visibility into your Subsidized Tenant Ledger. You can learn more about our affordable housing solutions here.
8.) Investment Management sessions
In conjunction with the main conference, we held a separate conference tailored to AppFolio Investment Management customers. Over two days, investment managers had the space to:
Connect with their fellow general partners and the AppFolio team to learn actionable strategies to strengthen their business.

Leverage capabilities through AppFolio Investment Management to more efficiently manage capital, outperform, and overdeliver.

Learn about the latest trends, innovative solutions, and business outlooks to enable their teams to drive portfolio growth.
Nat Kunes, SVP of AppFolio Investment Management, shared the vision of Investment Management and unveiled new and never-before-seen features and services launching in the coming months, which include tools to streamline investor verification and asset management.
Throughout the day, customers participated and joined in on numerous sessions, including "Insights across property types," where panelists across different asset classes shared their unique and differing perspectives on how they're operating in and navigating the challenges presented in today's market.
Our Investment Management events were a total success, and we can't wait to host more in the future.
9.) Serve a new market with short-term rentals
Another exciting mainstage announcement was StayManager™ — a way to grow and manage your short-term portfolio. Through extensive research on vacation rentals, corporate housing, and other types of furnished short-term stays, our team has learned that existing software solutions don't solve the problem, aren't easy to use, and cause double data entry. We also found that those who manage short-term rentals typically use four or five software solutions just to fulfill the core needs of their business. 
AppFolio StayManager™ is purpose-built for short-term rental management spanning from a single night to a few months. Launching to our full customer base in 2023, StayManager™ is an all-in-one solution for managing reservations and availability calendars, tax configuration and trust accounting, housekeeping operations, and more. With direct integration with Airbnb, we make managing your short-term portfolio feel seamless and magical. Learn how you can bring your short-term rentals onto the platform you trust here.
10.) Together is better
After being away for two years, it felt good to be back together. Judging from the smiles and positive feedback we received, this year's event was a success. We really enjoyed reconnecting with our customers, sharing the latest innovations and industry trends, and providing insights and best practices into how you can maximize your technology investment now and in the future.