Last modified on October 5th, 2017
By Christina Burch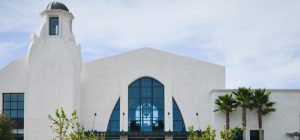 We are proud to announce that AppFolio's own Isabelle Meyer Stapf, Vice President of Value Added Services, has been recognized by The Pacific Coast Business Times as a 40 Under 40 Honoree for 2017.
According to The Pacific Coast Business Times, recipients were recognized for their leadership and dynamic role in reshaping the business health and economy of the Tri-Counties.
"I know the entire AppFolio family is proud of Isabelle for winning this award," AppFolio CEO Jason Randall said. "Isabelle has had a very big impact on our business and culture, and brings a dedication to excellence that I admire and continue to learn from."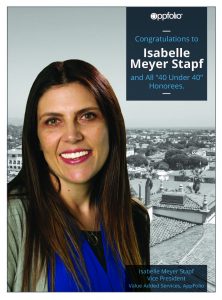 Isabelle is a member of the AppFolio leadership team, providing strategic direction and execution across the business and has been a key driver of AppFolio's continued revenue growth.
She's managed our widely successful tenant screening business – from implementation and support to partnerships and sales – and has launched multiple new offerings, including Maintenance Contact Center (MCC), Premium Leads, payment platform expansions, and most recently, Tenant Debt Collections.
"Best of all is her positive attitude, especially in the face of challenge, which inspires confidence in her team. Congrats Isabelle!" Jason Randall