Last modified on January 7th, 2016
By Alexis Hammond
Audits can seem overwhelming. If you know what to expect and follow best practices, you can avoid a world of stress. It's important to understand that audits are done with the intention of making sure your property management business complies with local real estate regulations and accounting principles.
Help your management team prepare for any review and spot potential problems with this guide!
This easy to use flip book offers great information, including:
An audit checklist
Lists of helpful reports to have on hand
A 3-way reconciliation process for accurate reporting
And much more…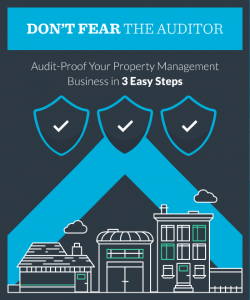 Take a few moments to check out this resource and see what you could be doing to audit-proof your business!