Last modified on February 27th, 2017
By Rachel Jefferson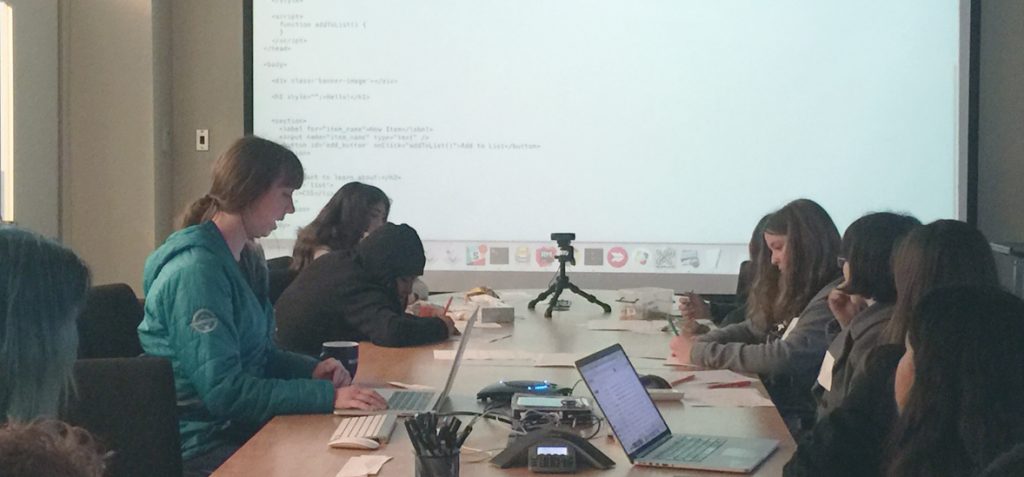 Last week, middle school and high school teens from Girls Inc. visited our AppFolio headquarters in Santa Barbara, CA. The organization exposes young girls to different career possibilities in order to learn how they relate to their current schooling and interests. A few of our female software engineers and designers met with the young women to give them an introduction to AppFolio Property Manager, as well as a behind-the-scenes look at the amazing women making an impact here at AppFolio, what our jobs entail, what we like about our careers, and how we got to where we are today.
"Girls Inc. encourages girls to actively explore the world around them, find their own voices, and strive to be responsible, confident, and independent young women. At the heart of Girls Inc. is our mission to inspire all girls to be strong, smart, and bold." – Girlsincsb.org
The group participated in a variety of activities that taught them important decision-making skills, as well as some fun, interactive lessons around design and coding:
– Emma Medjuck (Director of Product Management) led a "Prioritization" activity that gave the girls powerful insight into the tough decisions product managers have to make every day and how to weigh all the factors to make the best decision.
– Brianna Koch (UX Designer) and Kathleen Henning (UX Researcher) led a design activity where the girls sketched the mobile view of a Girls Inc. messaging app.
– Sarah Jones (Senior Software Engineer) did a live demonstration of front-end coding (HTML/CSS/Javascript) for the girls and showed how you can change the interface on-the-spot based on what you want to see.
The afternoon ended with a "Constellation" activity—something done by AppFolio product development teams in our retrospective meetings—where everyone stood in a large circle. Ellie Thomas (an AppFolio Agile Coach) read statements, such as "I had fun today" or "I learned more about what software engineers do today," and everyone moves closer or farther away from the middle of the circle depending on how much they agree with the statement. It's an interactive way to share feedback on an activity or project.
The day was fun and empowering for the girls, but also empowering for us here at AppFolio. "I loved bringing together a group of super talented women from product development to expose these girls to unfamiliar and exciting career paths and show the girls that these are totally viable options for them," says UX Designer Brianna Koch.
Education and technology are core to AppFolio, and we were honored to spend a day teaching these young women about the power of software and sharing with them what makes us excited about our careers in the tech industry.