Last modified on November 2nd, 2016
By Rachel Jefferson
You might have the "best" rental properties of anyone in your area, but if people can't access information on what makes them so great, those amazing properties could sit vacant for longer than you can afford. There are several channels in which you should market your properties, but the most important channel is your property management website. Your website is a critical place to showcase available properties to potential renters and help them determine whether they will take the next step and contact you. And if you don't currently have any available units, your website can still leave a positive impression that apartment seekers will remember in the future or pass along to friends who are in need of a new home.
Here are a few questions to ask yourself to make your property management website shine brighter than the others in your city. And read on for a real-life example of a property management business putting these tips into practice.
What Information Does Your Property Management Website Offer?
If you company website doesn't offer plenty of information to people who are interested in your rental properties, you're missing out on one of the biggest ways to bring in more tenants. Many property management websites only provide the basics, but modern renters need more. Rather than taking extra time to come see you in person and ask about the properties you have, they might decide to look elsewhere. A stellar website includes:
Financial and rental history requirements
Location/Map of available properties
Pictures! Lots of them and from many different angles
Parking information
Number of bedrooms/baths
Square footage
Age of the property
Pet policies
Laundry facilities and other amenities
Recent property upgrades
Contact information (a simple-to-use form)
What leasing features renters can enjoy, such as online maintenance requests, text message communications, online rent collection, etc.
What Are Your Competitors Doing?
To really set your properties apart from the competition, you need to know what other competitor websites are doing. You don't want to copy what they're saying, but you can use their websites as inspiration to give you ideas about what you want to do differently. If they do an exceptional job of showcasing the properties they have available, take a look at why they seem to handle things so well and what they're doing that you might not have thought of. You can incorporate similar ideas on your website without copying a competitor or making your site too similar to another property management company.
When Is It Time to Make Changes?
Making changes to your website takes time and effort. It also may take a little bit of trial and error. Hiring a professional to build or make changes to your website can be a great idea, so you can be sure that everything works properly right from the start. You don't have to worry about a lot of downtime with the site, and you can get your properties showcased quickly and efficiently. Decide what's most important about each property, and then tailor the property portion of your website around those important or unique features. The properties will be more easily seen and appreciated that way, which can lead to more renters wanting to be a part of your community.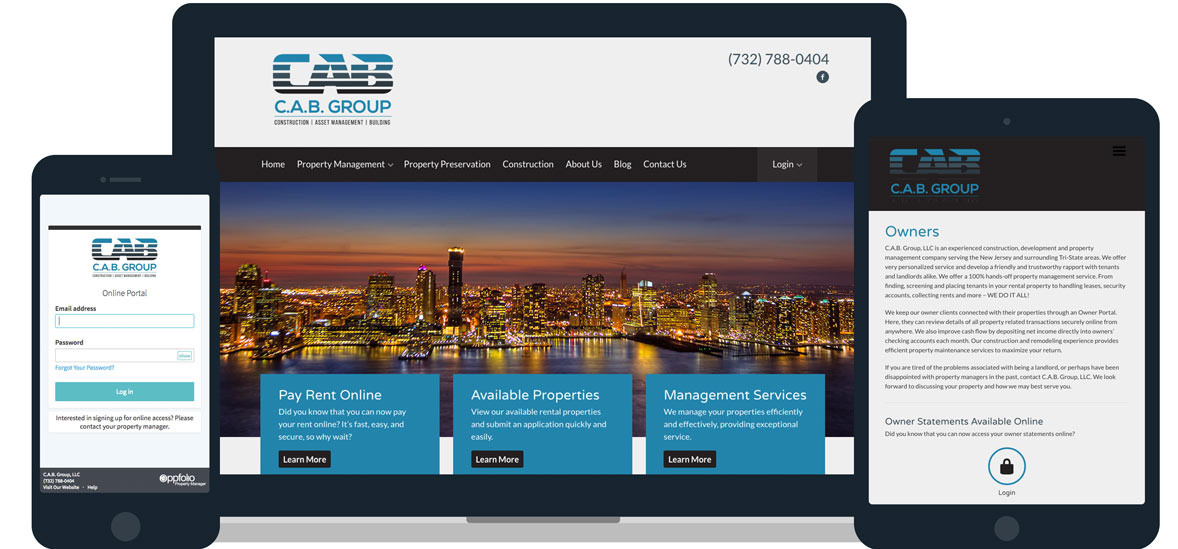 AppFolio Professional Websites Can Help Bring Your Business to the Next Level
For C.A.B. Group, LLC based out of New Jersey, the AppFolio Professional Websites service has been a game-changer. "The feedback we have received about our AppFolio-designed website has been remarkably positive!" says C.A.B President Candace Bertelson. "We have been told that it is sharp, impressive and a true standout. We believe that AppFolio's approach to keeping their websites not overcomplicated and professional is a winning strategy for the companies that utilize this additional service."
Before their current website went live, C.A.B Group would use free websites, third-party sites, and social media to advertise their company to potential new clients. Not only is this time consuming, but they were spending time focusing on maintaining third-party listings rather than on their ultimate goals. That's where AppFolio Professional Websites comes in. AppFolio's website experts build and optimize a professional website for your business, complete with social integration, vacancy listings, and a beautiful design. Because let's face it, we're not all web designers. We do it for you, so you can focus on what matters.  For C.A.B. Group, this focus was growth.
"This year, C.A.B Group has seen 100% growth and plans to double their staff by year's end. We owe much of our success to AppFolio as it has allowed us to more effectively manage our existing properties and has provided us with an amazing marketing tool to procure new business," says Bertelson.
C.A.B. Group had very little web presence prior to their AppFolio-built site, and they have seen the value in having a professional website that is inline with their company branding and effectively communicates their company's ideals.
Learn more about AppFolio's Professional Websites Service.
You might also enjoy:
Is Your Website Attracting Renters? A Quick Optimization Checklist