Last modified on October 4th, 2013
By Aimee Miller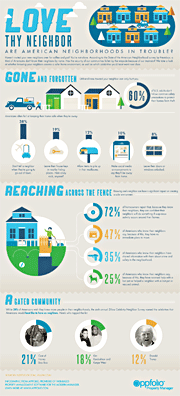 Haven't invited your neighbors over for coffee and pie? You're not alone. According to the State of the American Neighborhood survey by Nextdoor, a third of Americans don't know their neighbors by name. Has the security of our communities fallen by the wayside because of our manners? We take a look at whether knowing your neighbors creates a safer home environment, as well as which celebrities you'd least want next door.
Download the full-size infographic here.
Embed This Infographic On Your Site