Last modified on August 9th, 2016
By Elizabeth Millar
The times, they are a'changin'. It wasn't long ago that Internet access was reserved solely for the desktop or laptops in your home. While computers are still wildly popular in U.S. homes and businesses today, more people are using their mobile devices for Internet access. As the rental market becomes more dependent on emerging millennial groups for income, data suggests that 84% of current or prospective renters actively search for vacancies using their mobile devices.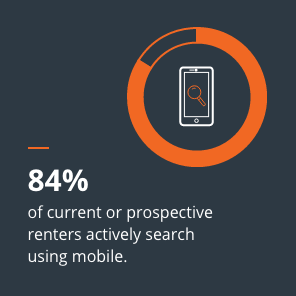 To improve the overall impression of your online presence and engage the massive market of on-the-go renters, a mobile-friendly website design is a must. In addition to this list of recent mobile trends to help you understand this new market, consider the following basics to help improve the way you promote your properties to mobile device users.
Responsive Website Design
Responsive Web Design is an approach to web design aimed at crafting sites to provide an optimal viewing and interaction experience across a wide range of devices. Google has begun to send out messages to website owners, prompting them to improve their mobile designs. Since more U.S. Google Searches occur on mobile devices than on computers, companies that neglect the mobile experience are bound to lose customers to more competitive property managers.
Internet users are notoriously impatient. If they don't enjoy a good user experience and get the information quickly from your website, modern renters are less like to engage with companies after a bad mobile experience.
SMS as a Marketing and Communication Tool
SMS tools can help property managers manage communications and advertising they choose to send out via cell phone text messages. Some marketers have referred to permission-based SMS subscription lists as the "new email." One big benefit is that subscriber lists can be segmented to different types of recipients.
For example, current renters might get messages about normal maintenance issues or reminders when their rent is due. Potential renters may get messages about move-in specials or other advertising that they have already opted in for. The proper use of text messages can lead to more efficient and profitable marketing and customer retention.
Mobile-Friendly Emails
According to Gartner, 74 percent of people with smartphones and tablets say that they use them to open their emails. Checking email was listed as the most commonly reported activity, even over social networking and gaming. While many businesses have taken the time to enhance their website design, they haven't taken care to make sure their emails are readable and accessible on mobile platforms. It's very important to make sure that phone and tablet users can get the messages that you send on any device they happen to choose to use.
Expanded Social Marketing Reach
Social media ranks as the second most common activity with mobile device users. Property managers might consider both paid social media ads and using social networking sites for inbound content marketing. The social sites should already be optimized for small device use, so it's just important to make sure that the rest of your Internet platform has kept up.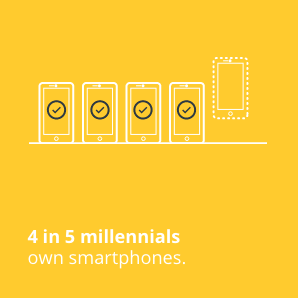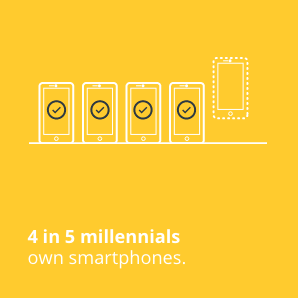 With 4 in 5 millennials using smartphones, and with the average adult spending nearly 3 hours a day on their mobile devices, social marketing may be a great way to attract an audience you may have had difficulty reaching in the past.
Why Mobile Marketing Makes Sense for Property Managers and Owners
People everywhere have begun to trade in their cable-bound electronics for the convenience and portability that mobile devices offer. Property Managers need to communicate with their current and potential renters in the ways to which those consumers want to be communicated. Those who ignore the rise of handheld Internet access are likely to struggle in the future; those who focus on mobile marketing are likely to thrive.
You might also enjoy:
Is Your Property Management Website Optimized for Mobile?
On the Hunt: How Today's Renters Search for Apartments