Last modified on March 15th, 2019
By Elizabeth Millar
A recent property management software research study showed that manual methods are still a leading approach in the apartment industry, but the desire for more modern technologies is growing strong. Software Advice, a company that researches apartment management tools, analyzed a random selection and found that many participants have habits that predate computers or the internet however they also found that there is a transition in which older owners are passing their properties to new owners. As a result, the transition is causing a slow, but much needed migration toward property management-specific software.
Over half of the random 385 analyzed use manual methods to manage property.
53% of the group reported that excel sheets, and manual methods like notepads and pens, are still dominant. Subsequently, this group managed small properties, making results less surprising. Nonetheless, the apartment industry is in a state of transition and as older owners pass properties to new owners they recognize the need to streamline and modernize.
As manual methods phase out, web-based systems are becoming more attractive.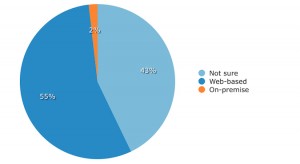 Web-based systems, like AppFolio, allow for easy access from any location. 55%of the group preferred something web-based for the convenience of attaining information for multiple properties, amongst other things.
We live in a mobile world that supports web-based systems, making it easy to reach information – for owners and tenants alike – hence why owners look for a system with Tenant and Lease tracking functionalities.
Tenant and Lease Tracking Is Top-Requested Function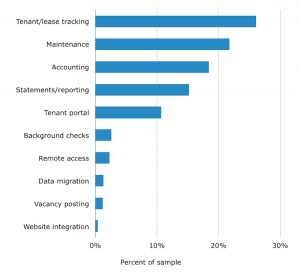 Modern property management software, like AppFolio, offers these top requested functions in an all-in-one web-based system–creating a more streamlined and organized solution for property managers.
While the amount of property managers using outdated manual methods is surprising, data shows that they are looking for solutions to streamline and modernize their business.