Last modified on August 10th, 2021
By Elizabeth Millar
At AppFolio, we know innovative products are key to a great business – that's why we take pride in creating environments for our team that breed ingenuity. An AppFolio tradition since 2012, Hack Day is a bi-annual event to encourage innovation, creativity, and collaboration. Today Hack Day continues to inspire teams to connect cross-functionally and think outside of the box by encompassing the same rules it has since its inception: "Share your results with everyone else" and "Don't work on something that you normally do." Past Hack Days have resulted in exciting product updates, improvements to the office, and new insights on how to work collaboratively.
At our first Hack Day of 2019, teams in Santa Barbara and San Diego kicked-off "Hack-Celsior!" – a comic book inspired ode to superheroes. AppFolio software engineers, interns, and product developers transformed the offices into a comic book lover's haven, fully equipped with capes, masks, exclamatory signs, and superhero-themed jigsaw puzzles.
Midnight Box
Another cherished tradition of Hack Day is the "midnight box" – those who brave an overnight at the office are rewarded with a unique prize to inspire continued productivity. Past inspiration has taken the form of Rock Band, Legos, a tabletop curling set, a scavenger hunt, and a popcorn machine. Santa Barbara carried on the tradition this year by opening the box after finishing a very on-brand office screening of Spider-Man: Into the Spider-Verse. Participants (those who were still awake) were graced with an assortment of goodies: Pez dispensers, Pop Rocks candy, Rubix Cubes, stickers, and Nerf guns – all superhero themed, of course!
Not All Winners Wear Capes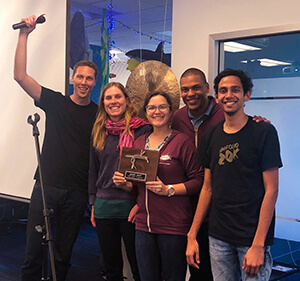 By the final hours of Hack Day 2019, Santa Barbara hackers began to gather in "engineering square," excited to present their work to their colleagues. Presentations began with yet another bang of the gong (this happens at every pivotal moment of Hack Day), and with projects spanning from product improvements to making ice cream, we can confidently say that team after team presented dynamite ideas with a "BANG!", "POW!", and a "BAM"!
Congrats to our Hack Day winners and all who participated!
Want to Love Where You Work? Join Us!
Hack Day is just one of the many reasons why AppFolians love working here. We're always on the lookout for new team members who thrive in a fast-paced, innovative, and energetic environment. At AppFolio, we believe that when we empower great minds, we embolden our future.
Learn more about working at AppFolio and check out our latest jobs here.
A special thanks to everyone who coordinated, collaborated, and competed in 2019's Spring Hack Day!