Accepting Online Payments from Residents Is Quick, Easy and Free with AppFolio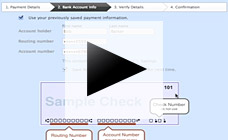 Did you know that it takes about 5 minutes to process each rent check – at a cost of $2.00 per check?
It Adds Up: Accepting Checks Is Expensive!
500 checks = $1,000/month or $12,000/year
1000 checks = $2,000/month or $24,000/year
When you collect rent online you can reduce these costs by 50% or more. With AppFolio it is easy for your residents to securely pay rent online, in seconds. The online rent payments are automatically entered into AppFolio and completely integrated with your accounting records so there is no need to enter data in multiple systems.
Vendors typically charge you an additional $1 or more for each online ACH rent payment. We've approached it differently and online payments using ACH are included in the AppFolio monthly fees -- there are zero fees per transaction for you or your residents.
The most important thing is that your residents actually use the service and because it is so easy and free, our customers see amazing adoption rates, saving so much time each month. Your residents will love the convenience of paying rent online!