A Complete Payment Platform
AppFolio's Payment Platform enables you to streamline rent week, save time and reduce costs. With a variety of online payment options that allow your residents to pay rent 24/7 in convenient and secure ways, you will dramatically improve resident retention and stay ahead of your competition.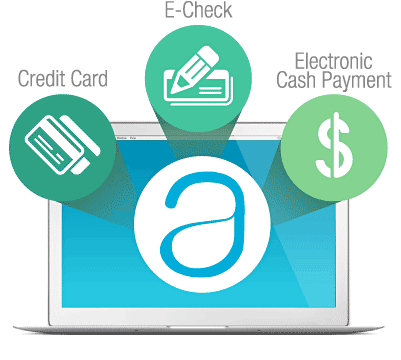 Because the payments are automatically entered into AppFolio Property Manager, your staff avoids the time previously spent entering rent checks or money orders – there is no need to enter data in multiple systems.
A built-in, complete payment platform for accepting rent online is a game changer for you and your residents!
Accept Application Fees and Rent Via Credit Card
With just a few clicks your prospective renter can pay application fees seamlessly with their credit card, making the online application process easy and seamless.
Your residents can also pay their rent using a credit/debit card through our easy to use online tenant portal. The resident simply enters their credit card information and the payment amount into the secure online system. The amount is then credited into the property managers account and entered into AppFolio's system.
With so many payment options for residents to choose from, paying rent is fast and convenient for both the resident and the property manager.
Online Rent Payments With E-Check: No More Paper Checks
Online rent payments using E-Check makes it easy for your residents to securely pay rent right from their computer. Because E-Check is an electronic funds transfer from the resident's checking or savings account to your operating account it is a perfect alternative to paper checks, which typically cost your company $2 per check to process.
Because it is so easy and free, our customers see amazing adoption rates and save so much time and money each month. Your residents will love the convenience of paying rent online.
And…It's free for you and your residents! Other vendors typically charge you an additional $1-3 for each online E-Check rent payment. With AppFolio, Online Rent Payment using E-Check is free for both you and your residents.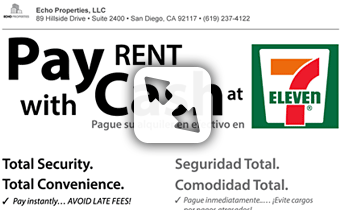 Electronic Cash Payments: No More Cash Or Money Orders
24% of U.S families don't have a credit card or debit card – they use cash or money orders to pay rent each month. AppFolio's Electronic Cash Payments offer an alternative to the risky business of accepting cash or money orders in your property management office. Residents who pay in cash or money order can avoid going to your office during business hours or worrying about dropping a money order in the after hours dropbox.
AppFolio's Electronic Cash Payments create a secure way for your residents to pay rent in cash at 7-Eleven and ACE Cash Express locations. This service is completely built into AppFolio Property Manager, allowing your staff to avoid manual data entry and eliminating the risk of money order theft.
Improve Your Business With Online Payment Options
Securely Accept Payments 24/7
The modern resident wants to pay online – this is truly becoming a requirement for many renters when choosing a new apartment. Offering residents the ability to pay rent online or at convenient locations saves everyone time and money and increases your resident retention.
Cut Time Spent On Rent Week By 50%
Electronic payments can save your staff so much time during rent week. Because these online payments are automatically entered into AppFolio and completely integrated with your accounting records there is no need to enter data in multiple systems. Your staff has time to spend on more productive activities like growing your portfolio! Online payments also means less trips to the bank and less data entry errors – both are big time savers.
Simplify Reconciliation And Reporting
AppFolio's Payment Platform is built right into your accounting records so there is no need to enter data in multiple systems. Less data entry means more accurate accounting and less work when it is time to do your bank reconciliation at the end of the month.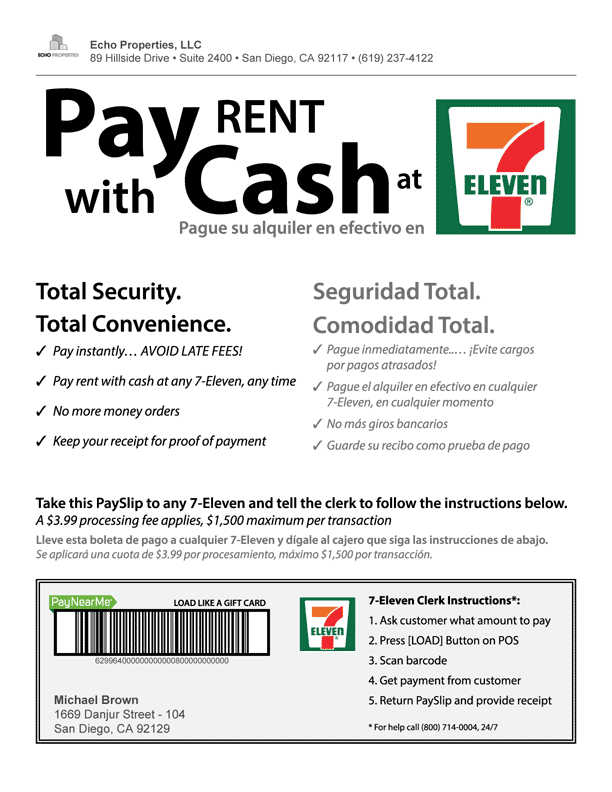 ×