Manage and Fill Rentals Faster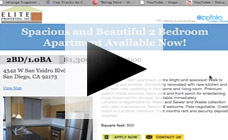 You have probably experienced the typical process to post vacancies to Craigslist and your website – a few hours each day manually entering the ad information for each property, one by one, over and over, every day!
When all of your property data is centralized in AppFolio's Vacancy Dashboard, in just a few clicks you quickly post your vacancies to the world and eliminate the hassle of maintaining data in different locations.
AppFolio makes our feed publicly available to these independent listing services, but ultimately these third party sites can choose whether or not to grab our listings (we cannot guarantee placement on any third party listing service). If you would like guaranteed placement, please contact the listing service directly as some may require an additional set-up process and/or additional fees.
"Craigslist used to take
us an hour and a half a day and now takes us about 15 minutes…they look better too."
Quickly post vacancies to:
Your website
Oodle.com
Craigslist.org
Zillow.com
Rentbits.com
Apartments.com
RentalHomesPlus.com
FreeRentalSite.com
Rentlinx.com
Rentmyhome.org
Condo.com
RentalAds.com
HomeTownRent.com
HotPads.com
RentJungle.com
RentalHomePros.com
A professional web designer created the ad format and layouts so your ads will stand out from the crowd and attract more residents.