Posting Vacancy Ads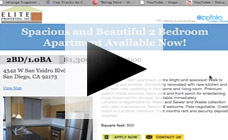 When all of your property information is stored in AppFolio, marketing vacant units is quick and easy because you save so much time and avoid the hassle of maintaining information in multiple locations.
In just a few clicks you can quickly post your vacancies to hundreds of sites on the Internet including your own website, Oodle, Apartments.com, and Craigslist to name just a few.
Posting to Craigslist is Easy
Craigslist is a popular place to post vacancies, but manually posting to Craigslist outside of AppFolio can take hours each week - we've even talked with customers who used to spend a day or more on Craigslist postings. Our Craigslist ads are professionally designed and allow you to showcase multiple photos of each property, YouTube videos as well as highlight the amenities and unique qualities of each home. Your ads include an option for prospects to fill out a Guest Card or to Apply Online. The ads stand out from the crowd so you get more inquiries and ultimately fill vacancies faster.
Monitor Your Marketing From One Place
We also provide reports that help you track the success of your marketing efforts. You can track guest cards by lead source, you can easily see and pay closer attention to those units that have been vacant the longest and see what happens over time as you change the language of your ads, change market rent or highlight different amenities.