Last modified on October 3rd, 2016
By Alexis Hammond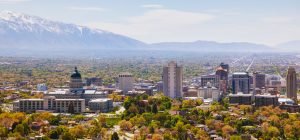 Salt Lake City's rental growth underperformed over the last half of a decade when compared to other large metro areas. In fact, the rate of growth suffered a steep decline between the spring of 2013 and the spring of 2014. Overall, the city's rate of rental growth also stayed well under the national average for several months between 2013 and 2015. However, 2016 news about rental growth rates in Salt Lake City, Utah, has been very positive, even when compared to other high-growth markets.
Rental Growth in Salt Lake City Keeps Trending Up in 2016
According to Axiometrics reports, the city enjoyed a rapid upswing early in the year and the growth trend has continued. This change in growth began as early as February of 2016 and is best illustrated with these numbers:
In February, the city shot up from number 12 to number 3 on the list of top metropolitan markets with high rental growth rates.
At that time, only Portland and Sacramento ranked higher.
The city's rental growth rose abruptly from 6.5 percent to 7.3 percent between January and February.
The cities included in this ranking are the 50 U.S. rental markets with the greatest amount of rental units.
What's Behind Rising Rental Rate Growth in Salt Lake City?
It would be unfair to claim that this spike in growth came out of nowhere. The city's rental growth had started a steady climb by the spring of 2014. By fairly early in 2015, growth had met and then surpassed the national average.
It's also interesting to note that the barriers to growth in this city were different from what has stalled growth in some other large cities recently. Many cities responded to rising rental rates and increased demand by overbuilding Class A apartments. In cities that did not enjoy expected job or income growth, affordability became a problem. These cities could not produce enough demand for the supply of high-end rental properties, so both occupancy and rental growth suffered.
However, this Utah city did not suffer from overbuilding and does not appear to have the same issues with affordability that many cities suffer from. In fact, ever since the Great Recession, inventory in Salt Lake City has failed to keep up with demand:
Since 2010, the city has opened an average of only 1,534 rental units each year.
During the same time, period, the demand for new rental units has averaged 1,869 a year.
In particular, Class A apartments have performed better than Class B or Class C apartments recently. This is true in terms of both occupancy rates and rental revenue growth. Since new apartments tend to be offered as Class A properties, this indicates that the city is quite able to absorb high-end inventory and market demand isn't close to satiation.
Steady Job Growth Helped Push Rental Demand
Besides the lack of supply of new apartments, a couple of other factors have also contributed to rental growth in this city. Job growth has also grown and is expected to reach an average of more than five percent in 2016. This is a steep increase from the city's 3.2 percent job growth in 2015, so it might help indicate why growth spiked so much over the past several months.
The Rental Outlook for 2016 and Beyond in Salt Lake City
As of now, trends suggest that residents of this city still have an appetite for more Class A rental units. As long as job growth remain steady and there is no drastic oversupply of new rental units, the city should continue to enjoy high occupancy rates and increased rental growth rates.
Are You a Property Manager in the Salt Lake City Area?
Come join us and other PMs in your area to talk about these current trends and how AppFolio Property Manager can help address them over a free lunch! Register for our AppFolio Meet-Up, October 20, 2016 at Christopher's Prime Steak House.