Last modified on May 2nd, 2014
By Bryan Ives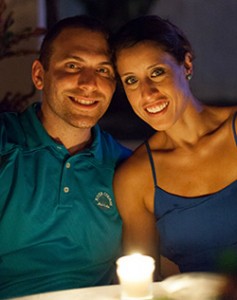 Interview with happy couple Adam Wells, Customer Success Manager and Lauren Wells, Inside Sales Representative
Where are you both from? How did you first meet?
Lauren – I am from Fallbrook, CA (Let's just say San Diego county – although barely)
Adam – I am from San Jose, CA.
We had both attended UCSB, worked at the Rec. Center, had all the same mutual friends but had never met. I first met Adam a New Years Eve party our friends were hosting. We laughed, danced and I think I must have done something right because a few years later two best friends got married.
Tell us a bit about your professional background. How did you arrive at AppFolio?
Adam – I was fortunate enough to find AppFolio right after I graduated from UC Santa Barbara. A colleague of mine from my accounting courses referred me to AppFolio. It didn't take long for me to realize why he was raving about the company. Almost four years later, I couldn't be more thankful.
What's most gratifying about your position?
Adam – I very much enjoy helping others. I get to work with amazing customers each day to help better their business. I love the constant feedback that we receive in how AppFolio is simplifying their lives.
Lauren – Receiving emails from customers I have worked with in the past thanking me for helping them streamline their business because now they have more time for their kids, grandkids, traveling, growing their portfolio, etc.
How do you like working together at AppFolio?
Working together is the same as life outside of work. We keep life fun and positive.
What do you like about working at AppFolio?
Adam – Where do I start? The people for one. I work in a very positive atmosphere amongst driven individuals working towards the same goal: helping customers grow their business. Communication between all teams from the top down provides for a collaborative atmosphere where everyone's opinion really matters. The daily fitness classes are a nice touch as well.
Lauren – The first thing that drew me to AppFolio was the leadership team – they not only created an amazing product that helps people in their daily business, but also have created a great culture for all of us employees. I get to work with some amazing people who keep each day fun and positive.
What is your favorite sport and why?
Adam – I have three favorite sports: baseball, baseball and baseball. My parents are huge baseball fans, and in turn, I fell in love with baseball as well. Being from Northern California, I have always watched the San Francisco Giants.
Lauren – I don't have a favorite sport per say (but we do watch wayyyy to much baseball in our house). However, I love watching the Olympics – Summer Olympics mostly. As a competitive athlete for years, there is something so inspiring about seeing these athletes reach their goals after all the hard work they put in hour after hour, day after day for years.
What do you like to do for fun?
Adam – I love being outdoors and staying active. I like to play sports in my spare time such as baseball, basketball and the occasional racquetball game. I also enjoy hiking and fishing.
Lauren – Anything outside – hiking, biking, running, swimming. If I could I would spend every second in the ocean or a pool. I think I knew how to swim before I knew how to walk. I also has a passion for traveling – anywhere. I hope to make it to South America soon.
Tell us about your family:
Adam – I have the most positive parents I could ask for. Their passion and drive in life has been a huge factor in mine to work hard everyday and be a positive influence on others. I have an older sister who loves to travel and her adventurous spirit is contagious and has been a positive influence on my life. I couldn't be more thankful.
Lauren – My mom and dad are not only happy AppFolio customers, but are also the best parents a girl could ask for and the cutest couple of 25+ years. I have two younger sisters, one who went to UCSB and graduated in 2012 and another who is currently studying Business at Northern Arizona University. Raising 3 girls and being the only man in the house – looking back, I have no idea how my dad kept his sanity.