Last modified on March 15th, 2019
By Elizabeth Millar
It's exciting to share with you that AppFolio Property Manager has been recognized as a leader in property management software according to Gartner's FrontRunners Quadrant. Those in the Leaders section are defined as all-around strong products with a wide range of functionality and high value to customers.  
FrontRunners® for Residential Property Management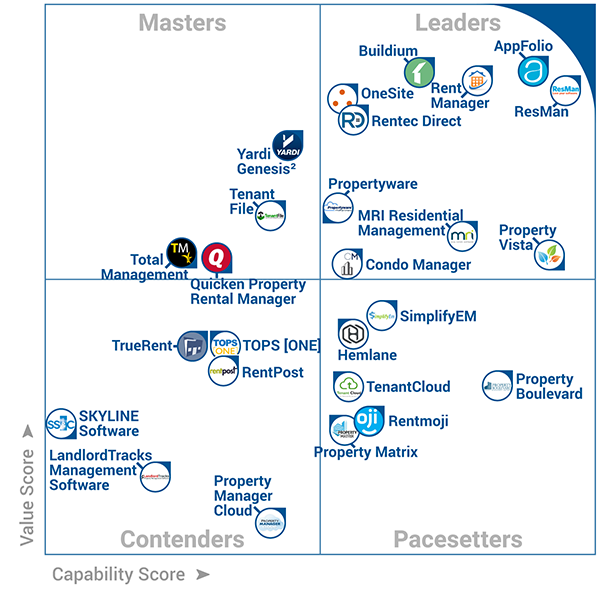 The research behind this placement is based largely on customer reviews, which is both humbling and exciting. Listening to customers is in our DNA and we have several opportunities each year to meet with our amazing customers and to learn from them. They even have input into our product development process to ensure we are building the right tools for their needs. This process results in a product that is perfect for property managers in the residential, commercial, student housing, and community association spaces.
AppFolio Property Manager is intuitive and easy to use and offers award-winning customer service to ramp up new users quickly and answer questions along the way. We consider our customer relationships as partnerships; we don't disappear after the onboarding experience. Just take a look at what our happy customers are saying.
Is Our Property Management Software Right For You?
If you're a property manager looking for ways to streamline, automate, and grow your business, find out how AppFolio Property Manager can meet your current and future needs. We offer a full-featured, mobile software solution for property managers of any portfolio size or type.
About FrontRunners Quadrant
The content for the FrontRunners quadrant is derived from actual end-user reviews and ratings as well as vendor-supplied and publicly available product and company information that gets applied against a documented methodology; the results neither represent the views of, nor constitute an endorsement by, Gartner or any of its affiliates.