Last modified on July 10th, 2017
By Aimee Miller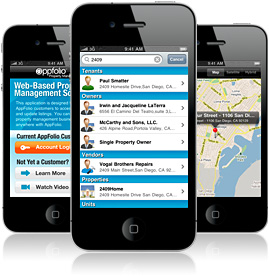 Hopefully you're already taking advantage of AppFolio's iPhone App! If you haven't downloaded it yet and you're already an AppFolio customer, just go to the App Store and download it right away. Also, it is rated 4+ stars.
Once you download it you can:
Access all of your contact information really fast.
Access contact information for all of your residents, owners, properties, units and vendors. You can see the phone number and even map the address (which looks very beautiful).
Contact people easily.
From the app you can send emails or even choose the coolest feature "click to call".
Take photos in the field and upload them instantly.
While you're prepping a vacant unit, conducting an inspection, documenting something good (or bad!) or taking marketing photos you can easily attach the photos to the record in AppFolio. A lot of customers rave about the quality of the iPhone 4 photos…and the rumor is the iPhone 5 is coming in September!
The data is synced automatically to the AppFolio iPhone application so it is always up to date, too.