Last modified on January 13th, 2016
By Rachel Jefferson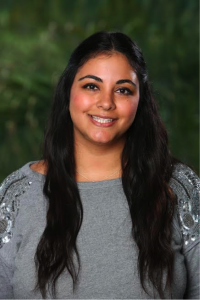 1) Where are you from?
I was born in Orange County, California, but I moved to Philadelphia shortly thereafter. My family and I then moved to Santa Barbara when I was four years old and have been here ever since! Being close to my family, the great weather, and endless fun events are what made me come back to Santa Barbara after college and stay.
2) Tell us a bit about your professional background. How did you arrive at AppFolio?
I majored in Kinesiology at San Diego State University with plans to become a Physical Therapist. After working for three years in outpatient and inpatient offices, I decided to seek a new career path. I was looking for a career that was exciting and continuously evolving, while still fast-paced and challenging. I had some friends that worked at AppFolio, and from being a local I heard about their great work environment so I decided to apply. I still wanted to have the customer interaction I enjoyed from my previous role, which is one of the many great perks of my current position as a Senior Customer Success Manager.
3) What's most gratifying about your position?
Being able to make our customers' lives a little easier is always a great feeling — I really enjoy the daily interaction with our customers. Our teams are broken out by time zone which allows us to work with the same customers regularly and build rapport with them. This allows us to really build a relationship with our customers beyond that of a typical support team, which I love!
4) How long have you been at AppFolio?
I have been with AppFolio just under two years, but it sure doesn't feel that long!
5) What do you like about working at AppFolio?
The camaraderie and work environment is truly special. It stills feels like we are a small company even after the growth we have had in the last couple years, which is amazing. There are fun interdepartmental get-togethers that give us a chance to meet new faces as we continue to grow. The fact that everyone at the company is always willing to help one another out is special and not something you see every day.
6) What was your favorite moment at AppFolio and why?
It's hard to pick just one moment, but lunch time is a recurring favorite. There is always a group of us in the kitchen eating, laughing and having fun. I have to give a shout out to Jon Walker, our co-founder and CTO, for being a part of the kitchen lunch crowd! It's incredible that a co-founder spends time with our teams and we love bonding with him over a casual lunch.
You build friendships at work and as simple as it sounds, having lunch in the office kitchen allows us to meet more employees and extend our friendships beyond the work environment.
7) What do you like to do for fun?
I enjoy being with family and friends, going to concerts, playing on the AppFolio softball team and travelling. I'm a huge foodie so trying new places and going to the wineries in our valley is always a good time!
8) Tell us about your family.
To start off, our Thanksgiving is about 45 people, so to say that I come from a large family is a bit of an understatement. Both of my parents are originally from Iran but moved to the United States in the early '70s. My dad owns his own local business and my mom is in banking. I have a younger sister who is my favorite person in the world and is currently in nursing school. I love my family and I'm so grateful to live and work so close to them!
You might also enjoy:
AppFolio Wins a Glassdoor Employees' Choice Award
Meet the 2015 AppFolio Engineering Interns