Last modified on October 1st, 2018
By Bryan Ives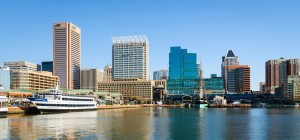 The rental property market all along the Eastern Seaboard endured a few rough years that led up to 2015. Things continued to pick up early in the year when RealtyTrac ranked Baltimore third for the highest potential rental returns in the United States. Only two Georgia counties ranked higher in the entire country.
The outlook for 2016 remains positive because of high occupancy rates, but that growth in rental prices depends upon a continued growth in the employment rate. With that in mind, it might be helpful to review the past few years in order to make some predictions for the future.
Baltimore: A Renter's City
The latest figures from the U.S. Census Bureau illustrates that Baltimore is a renter's city. The homeownership rate in the City of Baltimore was less than 50 percent. At the same time, the Maryland homeownership rate is 67 percent. It's clear that the demand for rental housing is definitely high inside the city. Still, lower incomes in Baltimore may depress actual rental prices somewhat.
While the average family income in the state is over $73,000, average family income in Baltimore is only about $41,000. Also, the Census reported that almost a quarter of the city lived below the poverty level, and the state average for people living below the poverty line is less than 10 percent.
Rent Growth May Lag Behind Job Growth
In the first quarter of 2015, Axiometrics reported that Baltimore continued to enjoy a rental property occupancy rate of just about 95 percent, which is considered full occupancy. They also reported that rental prices continued to climb, but the growth in prices fell off from a high in December of 2014. This was true even though the job market continued to improve.
They also predicted that price growth would begin to pick up steam with continued job growth, greater security, and an increased demand for rental units. They also contrasted the Baltimore market to Silver Spring, another Maryland city. In Silver Spring, sluggish job numbers and an increasing supply of rental properties may push rental rates downward.
Rental Occupancy Rates Remain Fairly High
In June of 2015, occupancy rates reached 95.4 percent. This is very close to a three-year high. Along the Northeast Corridor metro areas, only New York City, Philadelphia, Washington, DC, and Boston enjoyed higher occupancy rates.
In addition the supply of rental units has been steadily decreasing in this city for the past few years. Consider the trend since 2013 for the identified supply of rental properties:
2013: 3,450
2014: 2,607
2015: 2,500
Estimated for 2016: 1,708
Contrast that decrease in supply and with an increased job growth rate in 2013, 2014, and 2015 of 1.4, 1.2, and 1.9 percent. Over 42,000 new jobs have been created in Baltimore in the past two years. Meanwhile, the city's boom in construction peaked in 2013, so fewer new units have been put on the market. This decrease in supply and increase in job growth is a formula for increased occupancy rates and upward pressure on rental prices.
Baltimore, Maryland Rental Property Predictions for 2016
Baltimore's job growth keeps climbing, but it still hasn't caught up with the national average of 2.2 percent. The only true fly in the ointment is the fact that incomes inside Baltimore are relatively low. Hopefully, continued job growth will continue to push paychecks higher. Forecasters assume employment rates will keep climbing, and that's what most optimism for an increase in rental prices hinges upon. At the same time, Baltimore property owners enjoy some of the highest occupancy rates along the Eastern Corridor, with many city dwellers opting for rentals over home ownership.
Are you a property manager in the Baltimore area?
Join us for a fun and free lunch at Jimmy's Famous Seafood, May 18, 2016. It's a great opportunity to meet with other property managers in the area and speak with AppFolio staff and property managers currently enjoying the benefits of our all-in-one property management software.