Last modified on October 2nd, 2018
By Bryan Ives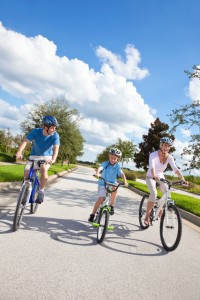 It's summer. Multifamily property managers are more likely to see kids outdoors – playing tag, enjoying the pool, and generally just hanging out after months of sitting behind a school desk. It's time to get the bike out of winter storage and find out who has the coolest ride, who can pop the longest wheelie and who can make it up the hill without gasping for air.
While the kids enjoy "bike season", there are some challenges for property managers. Some property managers complain about the rusting bike chained to the bike rack year after year. Sometimes, an abandoned bicycle poses safety hazards – such as when a youngster leaves his bike in the parking lot or in the middle of the breezeway overnight.
If you don't have a bicycle tracking program for your property, make it a priority this year to create a policy – before summer break is in full swing. There are many ways to tackle the problem from a management stance; none of them will work for every property.
Here are just a few suggestions to get you started.
Tag and Track with Teamwork
Numbers vary, but some estaimates reveal that as many as 2 million bicycles are stolen each year in the United States. Along with preventing theft, safety is a big concern for parents. Work with your local police department to host a bike safety rodeo. Plan fun games for the kids and parents. Maybe serve hot dogs and chips to encourage more families to turn out. While officers explain the rules of the road to the kids, find a way for parents to register the bicycles from their household. Here are three ways to gather information at the event:
Provide someone to engrave the name and address on the frame.
Walk parents through online registration at one of the national databases like The National Bike Registry. Bicycle owners will need the serial number, description of the bike, name, and contact info to register.
Issue special bike tags with your property logo and assign "parking spaces" in your bike corral, storage locker or bike rack.
Whichever method you choose, make sure you gather contact information, serial numbers and descriptions on every bike before owners leave. It might be a good idea to provide a ticket for free food after your residents fill out a registration form.
After the Party
Publish your bike policy and follow the rules consistently. You're free to set your own property policy. It is important to set time limits for how long you will hold an abandoned bike before selling it, turning it over to the police, or simply taking it to the recycling center.
A progressive three-strikes-and-you're-out penalty policy works for some property managers. First time the bike is left unattended there is a warning. Second time there is a minimal fine. Third time there is a significant fine or loss of bike parking privileges in the community rack or storage area.
Before you initiate a policy that charges hefty fines or limits bike privileges on your property, consult with your attorney to find out what you can and cannot do legally in your state.
What do you think? Are you ready to create a property-wide bike policy? Summer ought to be a fun time for kids of all ages. Make sure you have a great summer, too.