Last modified on March 16th, 2021
By Marc Frenkiel
Employee retention. It's one of the property management industry's most pressing pain points. 
While the average turnover rate across all industries stands at 22%, the property management industry has a turnover rate of 32.7%. 
So what can be leaders and managers do to improve retention?
Identify what motivates
According to multifamily expert and performance coach Jackie Ramstedt: "You have to know what motivates people. From Maslow's hierarchy, we know that it's food, money, and appreciation." 
The first two are taken care of via salary and health benefits. So how else can you show appreciation? 
Jackie continues: "Learn more about each employee individually. Learn what matters to them. What matters to one person might not matter to another. For example, if you learn that one of your team members loves to go fishing, give them a few hours off to do that." 
Time is our most valuable and precious asset, and giving your employees a few extra hours to live their life sends the message that he or she matters. 
Gozen Hartman, co-founder and chief operating officer of Fairlawn Real Estate, echoes this idea: "We believe in having competitive comp structures and benefit structures, I think that is just a standard but it's more than that, it's recognition but I would say recognizing what each specific person thrives off of. So some people love public praise and some people don't and so as a manager really identifying what motivates your direct reports, your teams, and the answer may be different from one person to the next."
Be a mentor
It's absolutely worth the time and effort of sitting down with your employees and getting to know them individually.
Not only will you learn what motivates the individual, but as his or her mentor, you are showing interest in their career trajectory and that they can depend on you to provide guidance. As Gozen goes on to say: "Having a quarterly conversation with each of your direct reports, outside of the office, maybe you go to a meal, but really just asking questions around, are people happy in their role? How can their manager help facilitate their growth?"
Since mistakes will be made early in a property manager's career, it's important to provide mentorship and help your staff learn from these mistakes. As Jasmyn Sylvester, Senior Property Manager at Atlanta-based Pine Tree LLC and member of IREM's 2021 Diversity Advisory Board says: "I think it takes a very specific skill set to be a property manager and to really want to stay in it. You have to really be committed to roll with the punches. That's why I think sometimes implementing a coach at the senior level is really important, someone who, when you are making those mistakes while you're in the field, can coach you through those situations and better mentor you on how to deal with it differently in the future. When you foster that sort of environment, I think it does lead to talent retention. I think it does allow your property manager to say, 'I'm willing to fight another day.'"
When people can see a path to success, it motivates them to work hard — and smart.
Adapt to changing expectations
Millennials —  born between 1982 and 1996 — currently stand as the largest generation in the labor force. Gen Z — those born after 1996 — are slowly entering behind them. These two generations comprise well over one third of the U.S workforce, and their numbers will only continue to grow. 
What makes these generational cohorts unique is that they are the first to have grown up with smartphones, apps, and social media. With an innate understanding of digital and computer technologies, they not only want, but expect smart, intuitive technology in the workplace. 
We asked Stacy Holden, Industry Principal here at AppFolio, if technology affects retention: 
"A hundred percent. But I think more than retention, it affects the individual story. So, imagine they go home or they're talking to their friends and they're talking about this great new job where, 'I wasn't in the mood to read, so I watched a video on how to learn this piece of technology. And then I couldn't remember how to do the security deposit refund, so the workflow took me right to the application to do that.' That's word of mouth, right? That gives you the ability to have this great persona in the industry where people want to come work for you."
She went on to remind us of a Glassdoor survey where 93% of Gen Z's and Millennials said they wanted automation within their jobs. Certain tasks within property management, like scheduling showings, can be automated. As the technology develops further, more and more of the routine will be automated, freeing property managers' time to focus on the more exciting aspects of the job. 
Let them be heard
Open lines of communication will make employees feel like they have a voice. It's in upper management's best interest to listen closely to what their property managers have to say, as they are the "boots on the ground." Additionally, open communication will ensure that everybody is on the same page and working towards the same goal.
On the flip side, an absence of open communication can breed an environment of unhealthy competition, where different units within the same business perceive themselves to be pitted against each other. 
To paint a complete and honest picture of how communication breakdowns can lead to issues with motivation, a property manager wishing to remain anonymous shared the following concerns: "We don't have open and effective communication at my company and what's happening is some sort of competition between the different departments. Leasing, construction, and property management. How can you expect your employees to show up everyday and bring their A-game when every day feels like a battle with your coworkers?"
Prevent burnout 
It's not surprising that the property management industry has such a high turnover rate. It's a demanding job that often requires one to be on call 24/7, and it is easy to lose energy after frequently being woken up at 3am to handle a maintenance issue. Unfortunately, upper management sometimes forgets the toll that this takes on the team. 
A possible solution is to switch to property management software that offers a 24/7 maintenance contact center. 
But software is only one piece of the puzzle. 
The employee using the software needs certain skills that are vital for success in property management. 
Fortunately, these skills can be taught.
Jasmyn Sylvester goes on to say that: "Sometimes workload can also contribute to just being burnt out. We get an influx of tasks on a day-to-day basis. Your to do list is miles long and sometimes you may not even be able to touch it because every day there's a roof leak, there is a plumbing leak, there is rent collection that needs to be had, budgets are due. So professional development is also a key in that talent retention, and just being able to teach them time management and better ways to deal with the crazy world that is property management."
So where do we go from here?
The bottom line is that it's up to leaders in the  property management industry to make changes that will lead to better employee retention. The very root of the issue is the demanding nature of the job. Everything suggested above builds upon this:
Since property management can be a thankless job, It's important to keep your team motivated. Show your appreciation for what they do by taking time to learn about them as an individual. Find out what motivates them. Offer them mentorship and show them the path to success. Implement an open door policy, and finally, provide them with the most cutting edge technology so they can do their best possible work. Not only will this prevent burnout by automating and outsourcing many tasks that they are currently saddled with, but it will go a long way in meeting the expectations of a younger, more digitally-native workforce.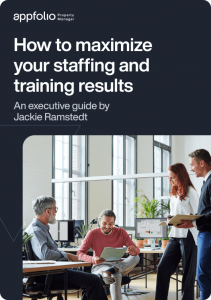 ---
Adaptability is at the heart of business longevity. Download our guide, How to maximize your staffing and training results, to help future-proof your organization through the right approaches to staffing and training.
---