Last modified on December 27th, 2018
By Jon Walker
"Yes we can."
Regardless of your view on politics you have probably heard this phrase and been inspired by the emotion of someone repeating it. It's been adopted by everyone from professional sports teams to those seeking to pass school bond measures. Why is it so powerful? I think it is because of the simple word "we" and our belief in the power of that word. For several decades our society has chosen to de-emphasize "we". On the surface, we talk a lot about "I" or "me" but deep down all of us acknowledge that some of our greatest achievements and our most rewarding moments come about when "we" work together to accomplish a goal that could not have been accomplished individually.
Recently, the engineering team at AppFolio went on a retreat. We gathered up the team and headed a few miles up the coast to stay together in cabins, listen to technical talks, roast s'mores around a campfire and challenge ourselves with a high ropes course. AppFolio has grown significantly over the last couple of years and so has the engineering team, so it took a few months just to plan. We had to coordinate a large group of people, planning transportation, food and activities. We had to carefully consider how we could continue to provide the kind of support we strive to give our customers while we were taking time away from the office.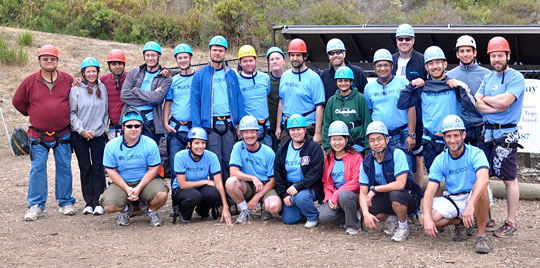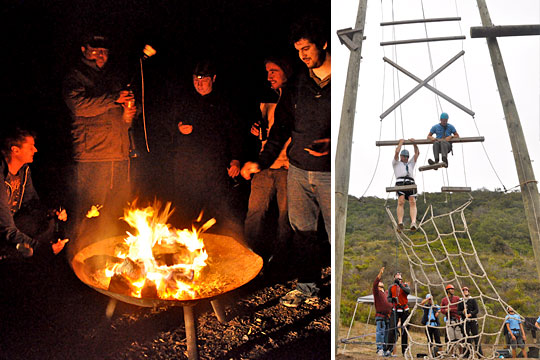 Why make the effort? Sure it was educational and fun, but AppFolio is a company. We have a business to run, right? The reason we did it is because we believe our business is the people. Building the relationships between those people builds the business. We believe it so strongly that it is included in our company values.
Great People Make A Great Company
We know that great people make a great team and great teams can overcome huge obstacles. We work hard to find the best team members to join our company and work equally hard to provide a challenging and rewarding environment to motivate and bring out the best in them.
I see this same value expressed in your businesses. When I am visiting one of your offices or get a chance to meet you at a conference, the first thing I hear is something along the lines of "You need to meet Cindy. She handles all of our payables and loves AppFolio." This is one of the things I love about the property management industry. I see that you know your business is the people too.
I also know how easy it is to forget this. We all get lost in the busyness of our work – whether that is managing properties or building software – so I have a challenge for you. Do something this month to build your team. It doesn't have to be something big, and it doesn't matter whether your team is two or two hundred. Try, for example, ending your next meeting by going around the table and having each team member share something they appreciate about another team member or something that team member did. Take a few people from your team out to lunch and ask them what their personal goals are. If you want, think big, and plan a team retreat for next year.
For those of you I have not yet met, I played basketball in college which is hard to avoid when you are 6'9". I am sure that some of my appreciation for teams comes from the experience I had in college athletics. Not surprisingly, there are many great quotes about teams from the world of sports. Here are some words describing what you should be building for your team:
Build for your team a feeling of oneness, of dependence
on one another and of strength to be derived by unity.
– Vince Lombardi
Vince Lombardi was so respected in his sport (football), that they renamed the Super Bowl trophy after him in 1971. Although he was a great individual player, almost no one remembers that today. He is remembered for being one of the greatest team builders in sports history as a coach with the Green Bay Packers over 40 years ago.
If you take up the challenge, tell me what you did to build your business into a team by posting in the comments below. Even better, tell me in person the next time you see me. If you haven't met me, be on the lookout for the guy who hit his head on the door jamb coming into the room. Hopefully, it was because I was too busy listening to one of my teammates to remember to duck.