Last modified on October 4th, 2013
By Aimee Miller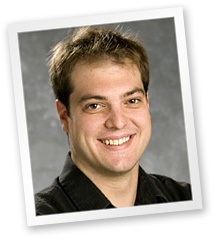 Tell us a little about yourself and your family.
I grew up in Simi Valley and have 2 younger brothers. I have always loved computers and when I was 15 yrs old I started building computers. Then, when I was in high school I got a job doing I.T. work. During college I decided to focus more on the business side of software. Now I've lived in Santa Barbara for the past 10 years and it is here that I met my wife Natalie. We had a very Santa Barbara wedding – the ceremony was in a local park and the reception was at the Mar Monte hotel.
Where did you go to school?
I went to UCSB to get my bachelors degree in Computer Engineering. Then I went to graduate school to receive my MBA from Arizona State University. Getting my MBA was good training for my job as a product manager because of my experience evaluating profit and loss for a product, managing cross functional groups, and more.
What brought you to AppFolio?
I came to AppFolio from Citrix and I was really comfortable there, but it was possibly a once in a lifetime opportunity to work for a company like AppFolio. It's rare to be able to be part of a great company, designing cutting edge software. It was at Citrix that I worked with some of the VPs at AppFolio and I was very excited to work with the team.
How would you describe the Development Team at AppFolio?
Genius! It amazes me how fast we can work while maintaining such a high quality product. Every single engineer is incredibly smart and talented and many even have a PhD. I think we are building such a great property management software product because the Dev Team spends time understanding our customers and always wants to know "the why" behind what we build.

What do you like to do for fun?
I like to go wine tasting with my wife up in the Santa Ynez Valley. We are members of several wineries there and have traveled to the Napa Valley and even up to Canada to taste the Canadian Ice Wine. I also love to ski and my favorite spot is Lake Arrowhead.
What are some of your favorite things?
I love sports. My favorite baseball team is the Dodgers and the Raiders are my NFL football team. I also really like NASCAR and my favorite driver is Denny Hamlin. I've never driven a racecar before but there is a track at Fontana that offers the "NASCAR experience" and that would be really fun to do one day. Until recently, I played on a flag football team and our games were every Sunday at the local high school.
What is something that few people would ever know about you?
I have a cat named Pinot. A lot of people might not peg me as a cat person.