Last modified on April 24th, 2018
By Rachel Jefferson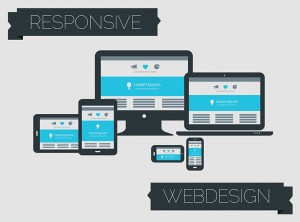 It wasn't long ago that everyone used desktop computers the size of small refrigerators to access the Internet. While desktop computers and laptops are still wildly popular (and thankfully much smaller) in U.S. homes and businesses today, more and more people use their mobile devices for Internet access (80% of Internet users search the Web on their smartphones!). That allows them to check their email and surf the Web from just about anywhere so they are always connected and informed. If you want to make sure your property management website is seen by everyone and anyone who might be interested in what you have to offer, you'll need to have your website optimized for mobile. Enter responsive website design. It sounds fancy, but the concept is quite simple: your website is formatted to fit on any size device (mobile phone, tablet, desktop). Even simpler terms: No matter what device you're using to look at a website, it looks darn good.
Property Management and Mobile Devices
Many property management companies use mobile devices, but they may not realize that their website isn't properly optimized for those devices. Because of the lack of optimization, their website doesn't load properly on a phone or tablet. Prospective renters try to view it and get frustrated, navigating away and choosing a competitor's site instead. You can't fix what you don't know is broken. If you own or operate a property management company, you'll want to check your site on a variety of mobile devices and make the appropriate changes so that it's properly optimized.
Responsive Website Design Can Bring More Tenants
If you want to see more renters come through your doors, a mobile optimized site can be one of the ways to do that. Potential tenants will appreciate the option to check out your site and all you have to offer right from their phone. They may even drive by the properties you have for sale, so they can get a look at them before they come to see you about viewing the property and renting it. While there aren't any guarantees, there's no reason to avoid a simple fix that could potentially increase your business. One important note: Responsive website design is different from having a "mobile version" of your website. Mobile sites have a separate mobile domain (like m.yourwebsitehere.com) whereas a responsive site is your same domain, but it adapts to fit any screen size and orientation.
What Steps to Take First
The first thing you'll need to do is check your website, or talk with your web designer, to see if the site is optimized for mobile. If it is, there's nothing else you need to do. However, if it isn't mobile friendly, you'll need to work with your web designer (or hire one if you don't have one already) to make sure that you get the site ready to go on mobile devices as soon as possible. By doing that, you'll increase your opportunities to bring in more potential renters. It's important to make sure your contact forms and online applications are accessible and readable from any device; otherwise you could lose a ton of potential leads because of a poor online experience.
Another Good Reason to Optimize
It's not just the potential for future tenants that you need to think about when it comes to optimizing your website for mobile devices. It's also about your current tenants and what you can offer. When these tenants are able to pay their rent online, renew their leases, and submit maintenance requests, it makes things easier for them. It's even better if they can do all of those things right from their mobile device, so they can get in touch no matter where they are.
You might also enjoy:
Is Your Website Attracting Renters? A Quick Optimization Checklist