Last modified on June 5th, 2017
By Christina Burch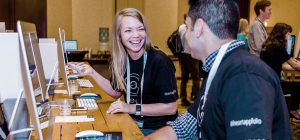 At AppFolio, we work hard to provide our property managers with a game-changing, all-in-one software solution and exceptional customer service. We also take pride in the fact that we're a company built on hardworking and collaborative visionaries, builders, and leaders who love their job and love the people they work with.
"The main thing that attracted me to AppFolio was how happy everyone seemed to be working here. It's a space where people can learn together and grow."

Lizzie MacKenzie, Premium Leads Partner Manager
Ready To Love Your Job?
At AppFolio, every employee is a talented thinker who is dedicated to delivering the best customer experience possible. We use an agile, customer-driven software development process and love working in small teams to create Software as a Service solutions that truly transform and simplify our customers' businesses. We're looking for team members who thrive in a fast-paced, innovative and energetic environment and who have a thorough understanding of the AppFolio culture—which is all about collaboration, cutting edge technology, customer care, and of course fun!
"The theme we have here is happiness and positivity. Feeding off each other's positive energy will take you places at AppFolio."

Sam Smith, Sr. Sales Development Representative
"What excites me the most about the future of AppFolio is how rapidly this business has grown and how much more opportunity is ahead of us."

Travis Hodge, Mid-Market Sales Manager
Join Our Team
Take a peek into our thriving company culture across our Santa Barbara, San Diego, and Dallas offices and find out why AppFolio might be your next step in growing an exciting and fulfilling career!
Check out our latest job listings at AppFolio.com.