Last modified on May 25th, 2016
By Rachel Jefferson
Property Managers are always looking for ways to optimize their business and be more efficient (and profitable!). One major way you can keep renters happy while also getting more work done each day is to take your property management business mobile.
Our cloud-based property management software is already optimized for mobile devices and we've had a mobile app for awhile now; but we've taken it a step further to make it an even more streamlined experience. We'd like to introduce you to the brand-new AppFolio Property Manager Mobile App!
Redesigned for AppFolio Property Management customers, this newly enhanced app gives you quick and easy access to your database from your phone or tablet. All features of AppFolio Property Manager are available at your fingertips 24/7.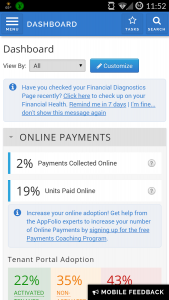 What you can do from the Mobile App:
Login anytime, anywhere to get full access to your AppFolio database
Perform property inspections in real time
Create, edit, and view work orders while working in the field
Take photos and upload to AppFolio
Capture important notes about properties or tenants while in the field
Manage all aspects of leasing, from guest cards to lease signing, right from your device
All data is immediately transferred to your database so you're always connected to the most up-to-date information
AppFolio's Brand-New Mobile App Is Now Available for iPhone, iPad, and Android devices.


Your owners, residents, and future renters are mobile, and if your business isn't ready they will find a business that is. But being mobile doesn't just benefit your customers, it can also have a huge impact on your day-to-day operations, saving you time and money.