Last modified on March 25th, 2016
By Rachel Jefferson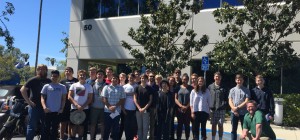 This week, AppFolio welcomed approximately 20 students from Santa Barbara High School to meet with our Product and Engineering departments. The students are participants in AP Computer Science courses offered by the SBHS Computer Science Academy. The program teaches basic computer science principles as well as more advanced topics and skills in CS education, such as mobile programming and security. These Academy students acquire an understanding of core computer science and associated mathematical principles and experience coding in several of the most widely used programming languages.
Students had the opportunity to learn from a variety of AppFolio engineering team members, including Emma Medjuck, our Director of Product Management, and Jennifer Payne, our Director of Engineering Support. Jerry Zheng, VP of Engineering, kicked off the afternoon with his take on the impact of technology on today's world and how businesses have changed with software. Chief Technology Officer Jon Walker spoke to the teens about how he first got into the computer science field and how he started AppFolio and why.
The students were given office tours and experienced first-hand how the Product and Engineering Departments work within our Agile Practices, our culture, and celebration board. They heard about how some of our engineers got into coding and how they found themselves at AppFolio.
"I love working with the students of local schools. The opportunities created by being able to take AP Computer Science in 10th grade vastly exceed those that many AppFolio engineers had – AP Computer Science was removed my senior year of high school due to low enrollment. These opportunities provide them with ample potential to do great things. If we're lucky, these great things may be for AppFolio." – Bryce Boe, Sr. Software Engineer, Tech Lead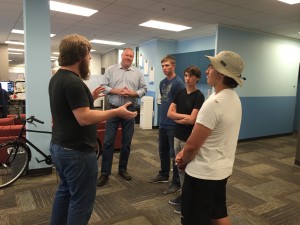 We're always honored and excited when young engineers visit us here at AppFolio. It's a chance to show them how fun and rewarding it is to build solutions and work together in teams.
Prior to touring the engineering part of the office, Bryce Boe, Sr. Software Engineer at AppFolio, asked his group what impressions they had about workplaces. "Unanimously they all expected to see cubicles. None of them had seen what modern workplaces are like, and they were very impressed with the product/engineering area, which is not even the best workspace we have to offer."
"What is simple for us, arranging a tour and sharing in our work experiences, is invaluable to these students. It's one thing to see a video about a workplace; it's another to experience it first-hand." – Bryce Boe
You might also enjoy: