Last modified on November 1st, 2021
By Paul Bergeron
With pandemic-induced burnout and rising turnover leading to increased competition for the remaining talent pool, employment in America is on a changing and challenging path.
So too, the apartment industry finds itself at a crossroads.
Today, there are more job openings than there are unemployed workers. Specifically, there are 1.25 jobs available for every unemployed worker. As a result, many employers say they are struggling to find workers.
Adding to this challenge is consumer price inflation rising at a rate greater than wages, making it understandable that "seeking higher compensation" is a leading reason that nearly half of all workers are reportedly looking for another job. Additionally, employees more than ever want to – and even insist on – working from home, and even working from anywhere, if their positions are conducive for such. Those who are in the office – and those who rely on bonding with co-workers virtually – are seeking a rewarding workplace culture.
Employers are striving to create that perfect harmony, but it's easier said than done.
New data shows HR is the rental housing industry's top challenge
To better understand the challenges facing the rental housing industry, AppFolio worked with the National Apartment Association to conduct an online survey of rental housing providers in the U.S. The survey, which received a total of 1,048 responses, focused on the top challenges currently facing the rental housing industry.
The most common challenge of all respondents was "HR, staffing, and recruitment." 50.5 percent of respondents ranked this as their number one challenge, with 74 percent of respondents selecting it as one of their top three challenges.
This topic has been top-of-mind at many recent industry conferences. The following is a collection of thoughts, ideas and strategies that the apartment industry is employing to win the battle for employees.
The competition to attract talent is heating up
Ryan Severino, Chief Economist, JLL, says, "We had a labor shortage going even before the pandemic hit. The Boomers were aging out of the workplace and the younger generations weren't enough to replace them. So, technology investment by companies is way up – it has to be because they have no choice to fill that productivity gap."
John Sebree, Senior Vice President, National Director – Multifamily, Marcus & Millichap, says that today, the onsite workers have the leverage, and aren't having trouble finding opportunities for higher-paying work.
"The labor shortage is hurting onsite operations," Sebree says. "You hear of maintenance techs who are making $22 per hour and are leaving to go work for Amazon at $27 per hour."
Marcella Eppsteiner, Senior Vice President, Marketing, Training and Revenue Management, Mission Rock Residential, says that 70% of voluntary terminations at her company were related to compensation.
Kate Good, Partner, Hunington Residential in Houston, shares this story from the summer: "We had a maintenance team member signed on and ready to start work. The day before his starting date, he told us he wanted a $5,000 signing bonus. This was not even in the original agreement." Good was forced to say goodbye, letting her new team member go before he even started.
One strategy that apartment operators are using to recruit employees is touting their properties as the ideal workplace. To help attract the work-from-home crowd, Sares Regis is using its most beautiful property shots – showing the comforts of pool areas, palm trees, updated interiors, and more – with the words, "Welcome to Your New Office."
Apartment Expert Lisa Trosien suggests that apartment companies include employment recruitment messages on their websites and in their general outreach communications such as emails.
"'Come Work With Us' is an attractive phrase if your residents like where they are living. Maybe they'll tell their friends," she says.
Trosien also recommends posting job openings on Facebook. "This gives your circle of friends a chance to see your openings and possibly even consider applying."
Everyone is a recruiter
"Today, everyone is a recruiter," Ashley Napoli, Vice President, Human Resources, Continental Properties, says of her workforce. Napoli partners with her marketing team to make sure available career opportunities appear in as many places as possible and encourages word-of-mouth efforts.
"We maintain a pipeline of communications to potential hires by contacting them at least monthly to tell them and show them what's going on at our company and that it's a great place to work," she says.
She also makes sure that Continental's name is out there by partnering with diversity organizations and technical schools and universities – making sure they have a point of contact at each so they can be kept up with what the company is doing and offering.
"You have to do more engagement in these channels than just two job fairs a year," she says.
Napoli also is keeping an eye out for boomerang employees – those who left the company but might want to return: "We make sure they are seeing the new and exciting things the company is doing."
Eppsteiner of Mission Rock Residential has helped to redefine the company's culture brand by using words, images, and messaging to make sure it stands out to those looking for property management careers.
"We explain the 'impact' their roles play in the company's success," Eppsteiner says. "Workers today are more in tune with having more 'purpose' at the places they work, especially younger employees."
Ask better questions
Along the lines of culture, Peter Lynch, Chief People Officer at property management firm The Cardinal Group, has consistently had a quarterly employee turnover rate of less than 7 percent, while the national average is about 20 percent, he says.
The Cardinal Group is considered one of the industry's best companies to work for. His company has seen a 40 percent annual increase in resumes received. One reason, Lynch says, is that their people – including their leadership – ask better questions.
"Don't walk in Monday morning and immediately say to a person you pass in the hallway, 'So, how was your weekend?' Naturally, they will be inclined to say, 'Good' or 'Fine.' That's not good enough.
"Try asking: 'What was your favorite part of the weekend?' This will get them to open up and share. Get ready for a lengthy response, with tons of details. Here, you've made a real connection, because you asked a better question."
Those connections are what help to build a happy workforce, one of congeniality and decency. "You win the marketplace when you win the workplace," Lynch says.
Flex hours and Pep Rallies
Tracy Bowers, Executive Managing Director for RangeWater Real Estate, says her company adjusted its staff hours to allow some positions to work when they were able rather than relying on traditional shifts. The company has had to be mindful of workers who had to take time to care for their spouse, family, or at-home teaching and other new routines that emerged as a result of stay-at-home orders.
RangeWater enabled team members to take as much virtual training as they wanted and ensured that employees would have cell phone allowances because so many have to rely on their phones to get their jobs done.
Jason Whittington, Vice President, Business Solutions, says his company, Gene B. Glick, has placed a lot of emphasis on maintaining a healthy work culture. It hosts "Pep Rally Fridays" where it invites some of its popular industry speakers to deliver uplifting messages. Each month it chooses an office-cultural focus to drive home to its employees.
Signs of emotional or physical exhaustion
Referencing the World Health Organization's definition of burnout as "an emotional, physical and mental exhaustion brought on by excessive levels of stress," Michael Levitt, CEO, Breakfast Leadership, a workplace consulting firm, added that "it's important to look to others, co-workers, friends, and let them know if you recognize any of these characteristics."
Levitt says burnout does not occur "overnight," but rather it builds over time as a result of working long hours, "being on email" night and day, and not separating home and work lives.
Companies are seeking technology solutions that can help to cut down on employee stress and anxiety. AI-enhanced maintenance and leasing tools are just a couple of powerful examples that can help optimize efficiency and mental well being.
---
Learn Science-Backed Strategies to Beat Burnout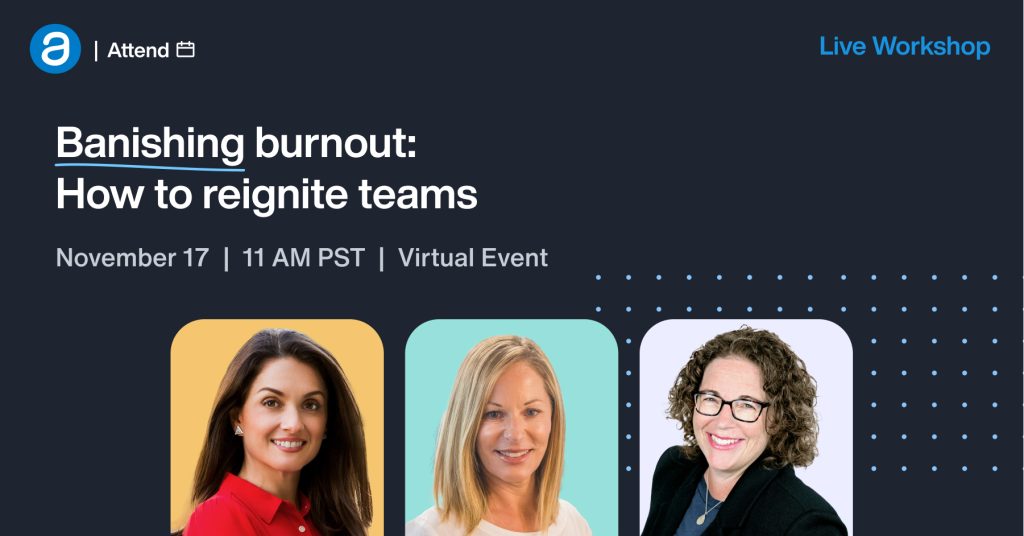 Join us for a live, interactive workshop on November 17th, 2021 featuring Dr. Jacinta M. Jiménez — Stanford University-trained psychologist, Board Certified Leadership Coach, and author of The Burnout Fix — to discover three key science-backed steps that address work burnout and build a more resilient team.