Last modified on April 23rd, 2018
By Aimee Miller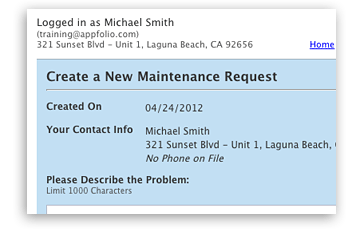 Tenants have the ability to submit an online maintenance request through their tenant portal. The request ties directly into the work order system – saving a lot of time.
When a resident submits an online maintenance request it will automatically create a work order in AppFolio. The work order will automatically populate Tenant and Unit information.
Residents will have historical access to past work orders within their portal and have the work order number available for reference.
You will be able to receive notification via email anytime someone submits an online maintenance request and will be able to manage the work order within AppFolio Property Manager.
Along with the benefits of online maintenance requests, the tenant portal displays the current status of outstanding payments and past payment history; these details presented to tenants have been shown to improve tenant payment completeness. For tenants to use the portal requires that you send the Tenant Portal Activation letter.