Last modified on July 15th, 2022
By Jason Randall
More than 15 years of transforming the real estate industry and serving our unique customer base has taught our team at AppFolio the importance of physical spaces: for connection, for collaboration, for innovation. We deeply value face-to-face teamwork and owe much of our success to the connections we've forged across our office hubs in Santa Barbara, San Diego, and Dallas. That said, our customers, our industry, and our world are changing – and our team is redefining how and where we do our best work. We've learned new things about our capabilities and expectations, while continuing to prioritize the exceptional customer experience for which we're known.
We've always believed that culture is key to creating a high-performing organization that fuels innovation. We have been purposeful in working to build an inclusive environment where individuals are empowered to succeed and capable of doing their best work. And we've earned workplace accolades from Fortune, Glassdoor, and Great Place to Work®, among others, recognizing this ongoing dedication.
Our recently announced workplace philosophy and approach to maximizing collaboration across the company – "Together @ AppFolio" – is just one way we hope to continue unifying our teams while embracing flexible, personal, and connected work from wherever our AppFolians call home.
In fact, we are working to make this a core cultural competency and believe it will be a business accelerator. "Together" is a guiding principle reminding current and potential talent that we can build culture and drive success for customers wherever we choose to work.
Listening to Our People
We are continually seeking fresh and innovative ways to hear what's on our employees' minds, since we are all active participants in making AppFolio a great place to work. We do this through one-on-one chats, small-group discussions, and structured conversations, along with employee net promoter score, quarterly Pulse surveys, ongoing Slack communication, and feedback loops for events and meetings.
Work location has indeed been top-of-mind for many of our team members. In fact, one recent Pulse survey revealed that a sizable portion of our employees desired remote work arrangements, while an equally substantial number desired more in-person interaction.
We heard their comments and concerns and began prioritizing the flexibility and collaboration they desired. We've enhanced our benefits to support work-from-home productivity and – equally important – wellbeing, including a variety of virtual fitness and wellness classes, and extra wellness days to ensure our team is prioritizing healthy work/life balance.
We also took a forward-thinking look at our physical workspace needs to ensure we're aligned with what is right for AppFolio's growing workforce. We've decided that we'll continue to invest in making our three office hubs exceptional work environments that fuel the collaboration, innovation, and customer success that are so important to our company culture. But we're also evolving our office footprint – creating more individual meeting and co-working spaces to maximize flexibility and connection, and using our office hubs as magnets to bring people together through frequent, impactful events and experiences that build culture and community.  
I believe that this is the right approach to support our company's strategic goals, create vibrant and connected office hubs, practice responsible sustainability efforts, and succeed in today's modern work environment. Because we're all in this "Together," that means we're always open to new ideas, too.
Maintaining Connection
Cultivating a true sense of community and belonging is something I've always prioritized, and it's what we're envisioning as part of "Together." We must maintain connection – wherever we are – to maximize our focus and success if we want to transform the future for our customers. It takes highly connected and aligned teams to truly power innovation, and that is something we've recognized as part of our vision, which includes the following building blocks:
Our small, focused teams and great people prioritize collaboration and seamless communication to stay focused on achieving common goals.

We're also providing our employees with the framework, tools, and leadership to support their best work, regardless of location.

And just like our customers, we're leaning on new technologies and innovations to stay connected, efficient, and focused on

improving our customers' lives.
In remote environments, it's easier for employees to feel disconnected and lacking the guidance they need to flourish. "Together @ AppFolio" empowers our leaders to break down silos and any other barriers to truly engage with team members – on career pathing, direct feedback, opportunities for deeper involvement, face-to-face interaction and connection, and more. I'm proud that career development at AppFolio is based purely on performance and potential – not work location – and we're providing departments with the autonomy and support they need to operationalize this philosophy.
Our people leaders are truly bringing out the best in their teams, propelling them towards their unique goals. 
Early Results
Our plan embraces people-centered innovation and enhances the way we work and live – and it's already paying off. Here is some of the direct employee feedback we're hearing: 
"I think the initiative to allow flexible work makes our company community more diverse."
"On a daily basis, I make meaningful connections with colleagues – whether over Zoom or in person. Partly, this is a requirement of my job, but I also think that there is a high value placed on connection and collaboration at AppFolio, even in this hybrid atmosphere, that fuels these connections."
"I love AppFolio's work environment. I feel I am much more productive and happier as a result."
We've urged our people leaders to remain intentional in how they engage and connect with their teams across environments. These leaders play a critical role in creating an inclusive space – setting the pace and modeling great practices. We've provided training and support for them, so they can prioritize and help instill new levels of flexibility and comfort into their teams' day-to-day work. These updates include new best practices around the onboarding experience for new team members, meeting design, and tools for fostering healthy team communication and connections.
Our all-hands company meetings have also become one of the highlights of my month. These began in our start-up days as small gatherings when everyone in AppFolio fit into one room, and have gradually expanded and evolved to include 1,600 AppFolians, and counting. But the same goal remains: To purposefully build our culture through updates that reinforce our values, spotlight our strategic priorities, and inspire belief in AppFolio's future and plan. Our meeting design is inclusive of both in-person and remote speakers and attendees, and we believe in coming "Together" as a team to celebrate our achievements.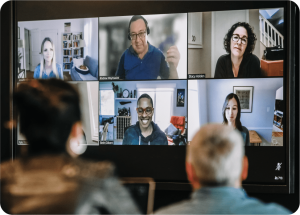 Thriving Together
"Together @ AppFolio" happens when teams collaborate and communicate seamlessly, staying aligned and focused on common goals. It happens when employees have the framework and tools to do their best work, regardless of location, impacting our customers' lives. And it happens when employees work with other exceptional colleagues who are closely connected to our customers, partners, and each other.
Our organization is fueled by many factors, including customer focus, innovation, and the trust and empowerment of our employees. We trust our people to do what they think is best in order to achieve our goals – and we're giving them the freedom and information to make it happen.
Click here to learn more about our dynamic workplace and our teams' recent successes, as we continue building the future of real estate.