Last modified on June 16th, 2017
By Elizabeth Millar
A General Ledger is a record of every financial transaction for your property management business. It is here that all debits and credits, for every account number and type, are stored.
Many avoid using the General Ledger because it can feel overwhelming. That is, so much information can be viewed from this report, that many prefer to utilize custom reports. But, sometimes the custom reports do not contain all of the information necessary to research a misapplied payment or to locate a particular dollar amount within a specific date-range. Enter AppFolio's flexible and customizable property management reports.
If you have a discrepancy (such as incorrectly applied transaction or unrecorded item), the General Ledger is a great place to review original transactions, since regardless of where in the system the transaction has occurred, it will always appear on this report.
There are a few ways to navigate to AppFolio's General Ledger:
Reporting > Reports > Financial Transactions > General Ledger
Accounting > Journal Entries > Reports > General Ledger
Accounting > GL Accounts > General Ledge
Once you select the link to open the General Ledger, a Filter option will appear. It is here that you can narrow down your criteria by Property, GL Account, and date-range. So, in other words, if you are interested in viewing any income received during a specific time-frame and by property, you would: Select the property, choose the date-range, then using your mouse and "Ctrl" button on your keyboard, you can choose specific and multiple GL Accounts.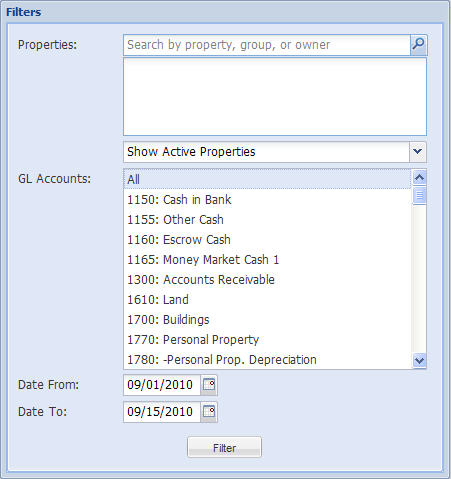 Should you desire to further organize the report, there is an additional filter/group button located at the upper-right portion of the report. Once you click on it, a drop-down will appear. From there, you can select the column headings you would like to see on the report. Maybe you want to view the property name, but do not want to see the transaction type. You would simply check the box to include the property name and deselect the box to exclude the transaction type.
When you run your cursor over the Show in Groups, an additional drop-down will appear. This feature allows you to sort the report via grouping.
Another wonderful thing about AppFolio's General Ledger report, is that if you click on one of the column headers, it will sort the report using your selection; much like Microsoft Excel.
Speaking of Excel, if you need to further manipulate the date to include formulas and charts, you do have the option to export the General Ledger into Excel format. Just click on the Export button at the top of the window and save the file wherever you like.

Last, but not least, I wanted to mention two of my most favorite components of AppFolio's General Ledger report:
You can click on any dollar amount to be taken to the respective transaction – these amounts are hyperlinked! This is so helpful when you are searching for something you need to eventually reverse or void. It also provides you with easy access to garner more detailed information surrounding the original transaction.
If you know the dollar amount you need to search for, but don't know what property it's associated with or who paid it or basically any information surrounding the transaction, other than the dollar amount, you can search for it.
To perform a search, look towards the bottom-left of your General Ledger where the Find field is located. Enter in the dollar amount, then click Enter on your keyboard. It will automatically search through every single transaction (Within the date-range and other search criteria you've selected) on the report and it will highlight it in yellow. If there is more than one transaction of that amount, they will all be highlighted in yellow and you can click Enter to go to each one of them.