Property Management Accounting Software
AppFolio Property Manager is based on a complete and solid accounting software system that was built specifically for property managers.
Cash Or Accrual Accounting Options
Accounting reports can be generated on either a cash or accrual basis. Whether you want to track your business cash flow or account for revenue and expenses on a daily basis, AppFolio's property management accounting software can produce accurate and intelligent reports.
The truth is that you can have all the features in the world and they wouldn't matter if your accounting doesn't function properly—this is the heart of your company.
Quick Bank Reconciliation
Doing bank reconciliations manually can take hours each month. AppFolio makes this chore easy by allowing you to sync your bank accounts in AppFolio with your actual bank statements and quickly reconcile each month, without having to review every single transaction. You can do this by importing an OFX or QIF file from your bank into AppFolio or by using Sync Transactions.
Sync Transactions allows you to authorize AppFolio to automatically download your bank statement and import the information into AppFolio. The system then compares information on your bank statement with what recorded in AppFolio, automatically clears all matching transactions, and flags any transactions that don't match, saving you the hassle of manually reviewing every line item.
Entering Bills Is Quick And Intuitive
We leverage the Universal Search feature to make entering bills simple and intuitive.
Just search for the bill you need, enter the correct information and you're done. You can create one-time and recurring bills to assign expenses to any property or general ledger account code. It's that easy!
Electronic Payments To Owners
Instead of the traditional process of printing and mailing checks to owners, you can save time and money by paying your owners via ACH.
AppFolio Owner ACH enables you to make owner payments simply by downloading an electronic file from AppFolio and uploading it to your bank. Using ACH to pay owners electronically will allow you to reduce your monthly costs to print and send checks and also allow you to provide better service to your owners. Owners receive the funds directly in their bank account, so they are paid much faster—and they definitely appreciate that!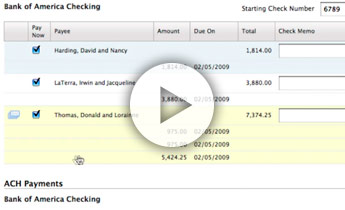 Easily Create And Share Property Level Budgets
You can use AppFolio Property Manager to easily create budgets at the property level.
With all of the accounting data stored in AppFolio you can track the current budget and compare to actual income and expenses for each property. This simplifies the process and ensures consistency during the budgeting cycle as you avoid entering data in multiple places.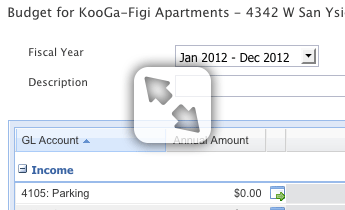 Manage Rentable Items
For properties with optional, rentable items you can easily manage them within AppFolio Property Manager.
Common items typically rented to residents include extra parking spots, covered parking or storage sheds. You have the flexibility to add the items that are relevant to each property and easily set them to show up as recurring charges on the property record.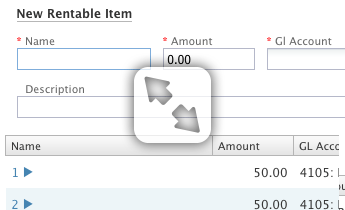 Customize Reports For How You Do Business
We've designed our reports to be extremely flexible so you can customize them for how you run your business.
There are many standard reports provided, including: accounting details, property details, resident and vendor information and much more. It is easy to adjust columns, select different fields and sort by different titles and even customize the way the information is grouped together. Links within the reports allow you to drill down on specific items so you can get all of the information you need.
Reports can also be generated in a variety of formats including PDF, .xls, .and csv, so you can quickly email, print or save them for future use.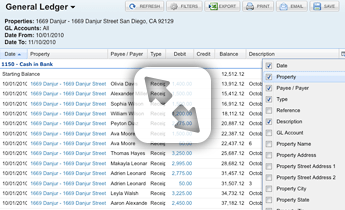 No-Hassle Transfer Of Funds
Transferring funds between properties is simple and uses an intuitive graphical interface so you avoid mistakes and save time.
With just a couple of clicks you can transfer money from one property to another to pay that bill without having to bother your owners. Everything is shown clearly on the ledgers for your owners, reducing questions at the end of the month. This functionality is designed to only transfer funds from properties with the same owner—eliminating the chance of error and accidental entries.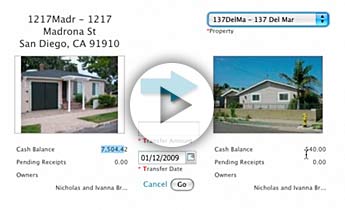 Setup And Print Checks
Unlike other solutions that require you to use specific checks, with AppFolio you can buy your checks at Costco if you wish!
Writing checks is an intuitive and easy process. The screen display looks like an actual check and you are prompted for all of the required information throughout the entire process. You can initiate the check writing process from a variety of locations in AppFolio to fit with your workflow.
Our system fully supports different check formats and setting up MICR printing is a breeze. Think of how much money you will save when you no longer have to purchase that expensive check stock from your bank.