Benefits for Owners:
Property Management Made Easy
"One of my new owners has properties in 3 different states and said this is the cleanest, most readable statement he's ever had."
Better Resident Retention
AppFolio is web-based so you and your team can securely log in and access information about all properties at any time and from anywhere. For example, if there is an issue at a property that requires your attention while you're out of the office, you can find information or contacts quickly and get the right people working to resolve the issue—allowing you to provide better service to your residents.
Communicate Easily with Residents
You can use AppFolio's mass emailing capability to send your residents proactive updates on property maintenance needs, newsletters with special offers and coupons or to send regular correspondence. Or use our built-in texting feature to quickly and easily send an important text to your residents right from your resident contact record in AppFolio.
It takes just a few minutes to send personalized notes to any of your residents and build relationships that last.
Built-In Property Maintenance Software
AppFolio's built-in property maintenance software features let you use electronic work orders to communicate with vendors, so you address and resolve property and building maintenance issues faster. Your residents appreciate how quickly you fix property issues and you can keep owners aware of your progress with email updates and copies of work orders.
Your team can more easily manage your vendors and have an organized view of all current and past work orders. You can even set up standard, recurring work orders for typical move-in or move-out tasks, saving time each month. At the end of the month, there are no surprises with the bills sent to owners and you continue to provide outstanding service to all of your customers.
Property Management Marketing
AppFolio includes many opportunities to easily and effectively market properties so you can dramatically increase the number of places potential renters can find your rental units. Because all of the property management marketing information is centrally stored in AppFolio, with a few clicks of a button you can:
Embed YouTube videos in all listings to speed the leasing process.
Post vacancies to over 100 rental listing sites on the Internet.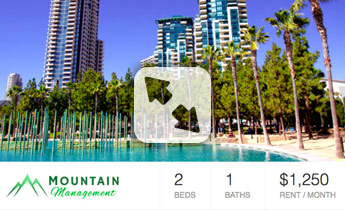 Update / remove vacancy postings on your website. You display only the most accurate information, the listings are professionally designed and very easy to navigate.
Post vacancies to partner sites Zillow.com, Trulia.com, RentBits.com, Rentmyhome.org, and Apartments.com.
Download professionally formatted HTML code and images to use when manually posting to listings sites like Craigslist.
Property management marketing in all of these places means you'll fill vacancies faster.
We can statistically prove to our owners that we occupy units faster."
Fast, Convenient and Secure Online Rent Payments
Your residents can pay their rent online in seconds and the online rent payments are automatically entered into AppFolio and completely integrated with your accounting records. Your residents appreciate the ease of paying online, funds are transferred to your account faster and you significantly reduce your check processing costs.
Pay Owners Electronically
Instead of writing checks each month and sending them along with owner statements, you can pay owners using our eCheck functionality to deposit the funds directly into their bank accounts. Owners are paid faster and more securely.
"I tell owners that if they come on board, they don't have to wait for a check. I put the money in their account within 12–24 hours and they really like that."
Convenient and Fast Electronic Delivery of Owner Statements
Instead of printing and mailing monthly statements, you can deliver them via email and an Owner's Portal. Your owners have on-demand access to the statements, completed work orders and reports.
The statements are designed to be very simple, easy to read and provide a quick snapshot of the property details for the past month. By providing your owners with quick access to the information they need you differentiate your service and continue to build loyalty and trust with all of your customers.