The most effective way to maximize the value of new software is to help your team use as much of the software as possible.
No matter what features and functions your new software has, or the benefits it can potentially bring, no benefits will be realized if the users do not learn how to effectively use the system and do so quickly and efficiently.
Studies have shown software-training benefits include:
Increased user productivity, often by well over twenty percent
Helping a new user use the software even faster
Reducing errors and the lost time it takes to fix unnecessary errors
Reduced stress and frustration during the transition
In short, software training is super important!
Unfortunately many new software users do not take training and end up failing to make the most of the new software. We've worked hard to offer many different training resources (free with the service) to help our customers avoid the pitfalls of poor software adoption and ensure success with AppFolio's property management software.
Here's a quick overview of all the resources available to our customers and included with the monthly AppFolio fees:
Help Resource Center
The Help Resource Center is the online location to access all things help and training related for AppFolio. It provides access to "How To" instructions for using AppFolio, links to recordings, and downloadable guides. You can access the resource center by clicking the "Help & Training" link at the top and bottom of every AppFolio page. Be sure to bookmark this as a favorite!
Live Trainings
We provide weekly live training sessions a few times a week. We include a full product overview for new users, accounting basics and advanced courses, tenant move in / move out, and bank reconciliation courses. These trainings are conducted by a live trainer and offer the chance to ask questions at the end of the session. Courses are offered online so no time is lost in travel.
Recorded Trainings
Recorded trainings enable you to access just the training you want to access on your own schedule. Recordings include everything from a full two-hour product overview, to short two-minute overviews of how to perform your common functions.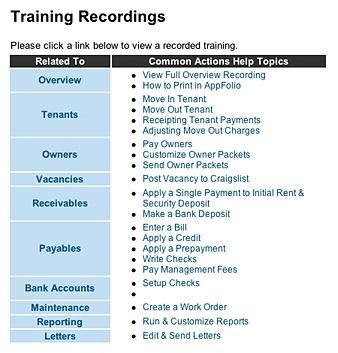 Downloadable Guides
We know that many people still like a good old fashion printed document, so most AppFolio features also have a Guide to help you understand and use the feature. These guides are provided in MS Word and .PDF format so you can download them to your computer and read them as you desire.
Practice Site
In addition to the help and training resources, AppFolio provides a fully functional practice site so you can wade in and learn to use AppFolio without fear of harming your live data. This is an ideal way for you to translate what you have learning in training into real skills. Access to the practice site requires activation from your Implementation Manager so please contact them to get access if you are not already enabled.
Feature Overview Webinars
Each quarter AppFolio provides feature overview webinars that cover the many new and exciting features that have recently released so everyone can be sure they are fully maximizing AppFolio's benefits. Webinars are announced in advance in the monthly "AppFolio New Features" email so keep your eye out for them and be sure to sign up when they are announced!
There is no additional cost to access these resources and the benefits of doing can be huge for ensuring you are getting the most from your AppFolio investment. So don't delay, start using these resources today!