Complete Residential Property Management Software Solution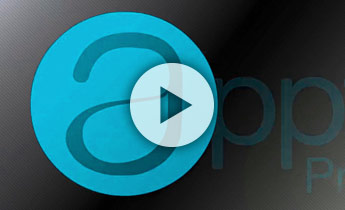 Product Overview Video (7:49)
AppFolio is a complete property management software solution, designed for today's residential property manager.
Our customers have multifamily, single family and mixed portfolios. We listen carefully to their feedback and watch the industry trends to add features that make sense, save you time and money and help you grow your business. We are careful to keep our promise of 'easiest to use' software so we add the features that we know you'll be able to use and implement in your business.

Read more about features specifically built for the multifamily management company.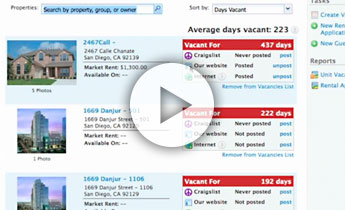 Posting Vacancy Ads (2:21)
Find And Attract Better Residents Faster
Built-in marketing functionality, prospect tracking, online applications and applicant screening so you quickly increase revenue.
Professional and modern websites with options for mobile sites, social media integration, blogs, and more.
Post vacancies directly from AppFolio Property Manager to your website, online listing sites and paid services so you fill vacancies faster.
Vacancy ads include the option for prospects to fill out guest cards or applications so you track each lead source and maximize your marketing investments.
Accept online applications (get rid of the paper and PDFs!) and the data is stored right in AppFolio. If you choose to rent to the applicant, in a few clicks you can move them right in.
Built-in resident screening offers you the option to screen prospective residents in seconds right from AppFolio Property Manager.
Rent Comparison Tool RentMatch is an easy to use, rent comparison tool that helps you to quickly analyze your rental prices compared to other units of similar size and bedroom count in the same geographical area. Built into AppFolio and provided absolutely free.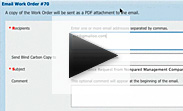 Paperless Work Orders (0:40)
Routine Property Management Tasks Take Less Time. That's Good News.
AppFolio Property Manager has many features that enable compliance, help you run a paperless office and save time on routine property management tasks.
Web-based solution includes handy Android and iPhone mobile apps so you can easily access data in the field.
Post owner statements to a convenient Owner Portal, use the Email functionality to skip sending printed letters and avoid paper and mail costs.
Email work orders and track maintenance requests online to resolve issues faster.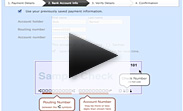 Accept Rent Online (1:50)
Collect Rent Online
AppFolio provides a variety of online payment options that allow your residents to pay rent 24/7 in convenient and secure ways. Options include e-Check, credit cards or Electronic Cash Payments ‐ a built-in, complete payment platform for accepting rent online is a game changer for you and your residents!
Ratio Utility Billing Comes Free With AppFolio
Instead of paying $2 or more (per unit, per month) Ratio Utility Billing (RUBS) is included with your AppFolio service. Simply set up the allocation once then enter utility bill totals each month – resident charges are automatically calculated and added to the monthly statement. Everything is tied perfectly to your accounting system so residents receive a single monthly statement with rent and utilities, your company collects more revenue each month and you eliminate the hassle of manual data entry…plus it is free!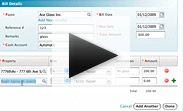 Bill Entry Flow (1:31)
Powerful, Accurate Accounting
Accounting system (options for cash or accrual) built for property management and includes flexible, fast reports.
Send owner payments (using ACH) with just a few clicks.
All the reports you need and the ability to customize and download them on-demand.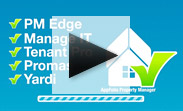 Data Migration (2:08)
Data Migration, Training & Support
Automatic data migration gets you up and running faster. Training and support are also included with no hidden or extra fees – we really want you to be successful with AppFolio Property Manager!
More Product Feature Videos