Maintenance Management For Service Requests
Manage all work orders for a project in one service request.
All In One Maintenance Management
The AppFolio Service Request feature enables easy maintenance management for a project, from a single work order to multiple work orders with multiple vendors, all together in one service request. You have the flexibility to handle any size project you need to get done.
You can set the priority as urgent, normal or low to clearly define and organize your Service Requests projects. Add owner contact information, vendor instructions and define maintenance roles. In addition, Service Requests Management allows you to track time spent on the job by your in-house maintenance staff all in one property management work order software.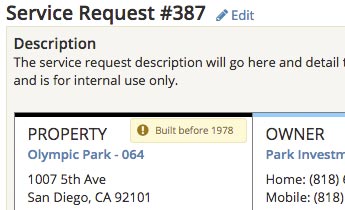 Property maintenance management becomes much easier with AppFolio Service Requests. You can also configure standard, recurring Service Request work orders for typical move-in / move-out jobs as well as standard monthly or annual maintenance tasks.
Easily Communicate Service Requests
Using AppFolio's paperless Service Request feature to communicate with vendors allows you to respond to and solve property maintenance issues much faster. Your residents will appreciate how quickly you address and fix property issues using effective maintenance management, and you can keep owners aware of your progress with email updates and copies of work orders.
Fully Integrated Work Order Management
Service Requests are fully integrated with accounting and leasing functionality in AppFolio property management software. Receive maintenance management requests from the tenant portal, track time spent on the job, easily create bills, and create an AppFolio Service Request on the fly when you're inspecting a property through the Mobile Inspections feature in AppFolio.