This fall, we were excited to welcome back AppFolio users to Santa Barbara, California, for the 10th annual AppFolio Customer Conference. More than 800 of our customers joined us in-person to learn fresh perspectives on the market via educational sessions, network with peers, and gain insights on effective and creative ways to use AppFolio for their investment and property management businesses.
This year's conference theme, "Where industry meets innovation," centered around putting the AppFolio platform to work to energize our customers' businesses and jump-start their futures. Here are some of our favorite highlights from this year: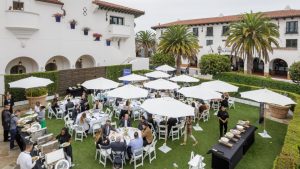 "You never stopped, so we never stopped"
To kick off the conference, General Manager of Real Estate, Shane Trigg, gave a powerful opening welcome, thanking our customers for the resilience they've shown over the last two years. Navigating through a pandemic, maintaining good business practices, and creating positive experiences for their investors to their residents was no small feat — but because they pushed forward, so did we.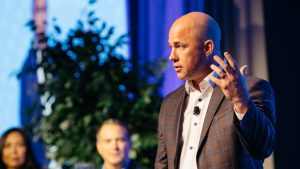 "When it felt like the entire world stopped, you didn't," Shane said. "We leaned into our values, embraced every employee, and found new ways to connect and listen to all of you to continue to deliver the product innovation you needed to rapidly respond and transform your businesses."
Celebrating innovation
Our priority at AppFolio is to innovate on our customers' behalf. In the AppFolio Investment Manager mainstage sessions, Senior Vice President Nat Kunes took a moment to celebrate recent innovations created by the team. From our Investor Payments service to automated email campaigns for new investor contacts, we took a look back at big innovation wins from the past year—all of which were made in partnership with our customers.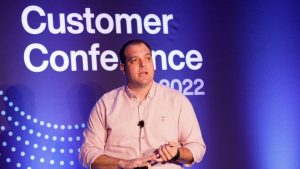 We also used this year's Customer Conference as an opportunity to directly thank some of our customers for their contributions to our innovations. Marterra Properties received the "Trailblazer Award" in our first-ever Investment Management award ceremony, recognizing how the company is always the first to adopt and use new tech that we bring to the industry.
Nat also gave an exclusive peek at some major releases coming out in the near future from the AppFolio Investment Manager team–but you had to be there to find out!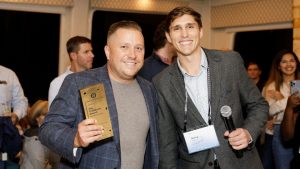 Sharing different perspectives
We're happy to be able to support customers of all different sizes, property types, deal structures, strategies, and more, and Customer Conference is an exciting way to bring many different perspectives together in one place.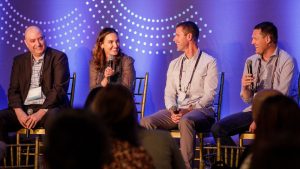 Educational sessions throughout the conference centered around panel discussions that pulled from different AppFolio Investment Manager customer perspectives. The session "Insights Across Property Types" consisted of a panel of GPs specializing in Multifamily, Land, Storage, Office, and Industrial asset classes and the audience was able to hear their unique and overlapping perspectives on the multitude of challenges and opportunities in this current market. The "Professional Reporting in 2022" panel dove into the varying ways general partners provide best-in-class reporting to their clients.
Creating meaningful connections
It was a privilege to bring our customers back together to create meaningful connections across a series of venues and networking opportunities. The Investment Management track offered networking breaks and lunch at the beautiful Hotel Californian on Santa Barbara's State Street, allowing AppFolio team members and customers to connect, share ideas, and even strike up deals.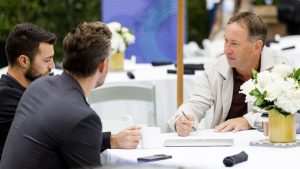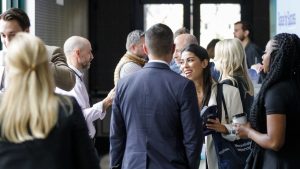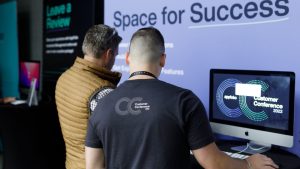 Of course, it wouldn't be an AppFolio Customer Conference without a few parties. AppFolio customers celebrated aboard a luxury sailing catamaran along the Santa Barbara coast for the Investment Management Cruise, toasted success over happy hours, and danced the night away at the Customer Appreciation Party.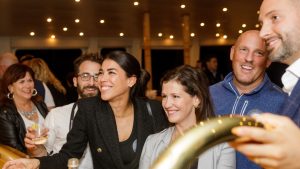 We are so grateful for the opportunity to connect with our customers again in-person at this cherished event. It has been a great 10 years of learning, connecting, and celebrating innovation in an important industry. We'll see you again next year!