Last modified on August 29th, 2018
By Roya Asnaashari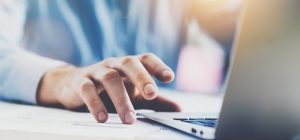 A reliable tenant pays on time, treats the property with thoughtfulness and respect, and helps to strengthen a neighborhood by contributing to a safe and friendly environment. As property managers, your goal is, of course, to fill each vacancy with the best possible tenant and create a safe neighborhood for the community you manage. But it's not as easy as 1, 2, 3.
So, how do you confidently ensure this type of renter for your owners and neighbor for your tenants?
Having a thorough, detailed application process and a reliable tenant screening report can help to mitigate risk for all parties involved when trying to fill a vacancy. As property managers, it is your responsibility to do your due diligence by attempting to gather as much information as possible on an applicant. A detail-oriented application will collect information on an applicant's employment and address history, as well as references, to give you a basic idea of who that applicant is; but the problem is you are relying on the honesty of your applicant. Where an application alone has its limitations, a dependable screening report will return the good, the bad, and the ugly.
While there are many varieties of screening reports offered, to truly access the best history you want a report that will return not just the standard credit history of an applicant, but their eviction records and criminal history as well. Tenant screening is not only a level of defense for the owners of the properties and the landlords who regulate them, but also for the tenants. A tenant is not able to choose their neighbors, so it's a comfort for them to know that every resident has undergone the same background check and been assessed against the same criteria. Running a full background check on your applicants assists you in finding out any information that the applicant failed (or chose not) to disclose.
AppFolio's integrated screening service gives you the option of searching not just the applicant's credit and eviction history, but a complete nationwide criminal history, and also checks the OFAC terrorist watch list and Megan's Law sexual predator registry to safeguard the interest of the community.
Using criminal data should however be used with caution. The Fair Housing Act prohibits discrimination, and the US Department of Housing and Urban Development (HUD) released guidelines in 2016 which you should review with your legal counsel to develop a policy and set of procedures that are relevant for your business and in line with all relevant laws and guidelines in this area.
Having a thorough and reliable screening report helps, at very least, gives you peace of mind when adding a new tenant to your portfolio. When you hand over the keys, you know that you've done the best you can to fill that vacancy with the best possible tenant.