Last modified on October 17th, 2022
By Brittany Benz
From a shift to a hybrid work model to labor shortages and cybersecurity attacks, the community association management industry has experienced many changes in recent years, all of which have created new challenges for association management businesses.
Back in 2021, we surveyed association management professionals to find out their top challenges and priorities and how they were using technology. To follow up on that research, we recently surveyed association management professionals again to understand how these challenges and priorities have changed and if there are new opportunities on the horizon. Below are a few of the most notable findings from the survey, along with a link to the full report. 
Meeting customers' needs remains a top challenge for businesses
Meeting customers' needs and expectations was the most common challenge faced by community association management professionals. In fact, 37% of respondents ranked this in the top three challenges. Based on our previous board research, this lines up with how board members feel, in that only 23% said they would recommend their current or most recent management company, indicating that their management companies were not meeting their needs. Other top-ranked challenges were software support/reliability, business growth, and finding and recruiting new staff.
Compared to the 2021 research, meeting customers' needs and expectations was the only challenge that remained in the top three. Last year, the top challenges were communication, meeting customers' needs and expectations, and manual/outdated processes. This suggests communication and manual or outdated processes may be less urgent challenges than they were last year — perhaps businesses have adopted new technologies and best practices to solve this, so it's less of an issue. 
To find out how these challenges differed from smaller to larger companies, scroll down to read the full report.
Companies are prioritizing customer service first and foremost
Improving customer service was the most common priority for association management professionals, with 41% ranking it in their top three priorities in the survey. This aligns with the top challenge of meeting customers' needs and expectations. Along with this, improving company culture and enhancing cybersecurity/data security were listed most often as priorities.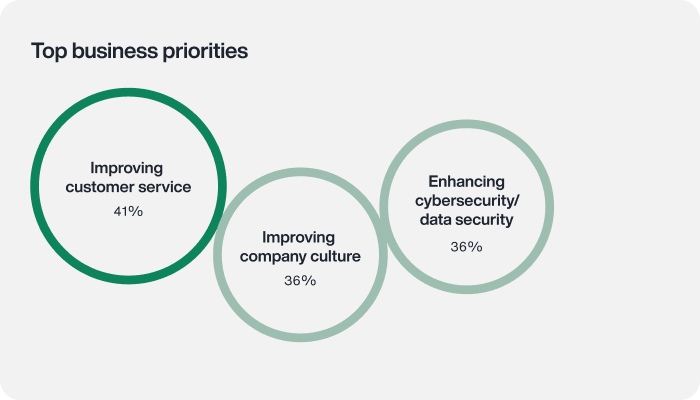 Compared to the 2021 research, improving customer service was the only top priority that was still listed in the top three in 2022. Last year, streamlining operational efficiency, improving customer service, and adopting new technologies were listed as top priorities.
Read the full report for a deeper dive into why these priorities have changed and how technology has played a role.
The future is bright for businesses that have the right tools
Based on the survey, 72% of respondents felt their business was prepared to adapt to the changing needs of the industry. This is a slight decrease from last year when 79% of respondents said they felt prepared. This could be because of inflationary pressure and growing concerns about a potential recession.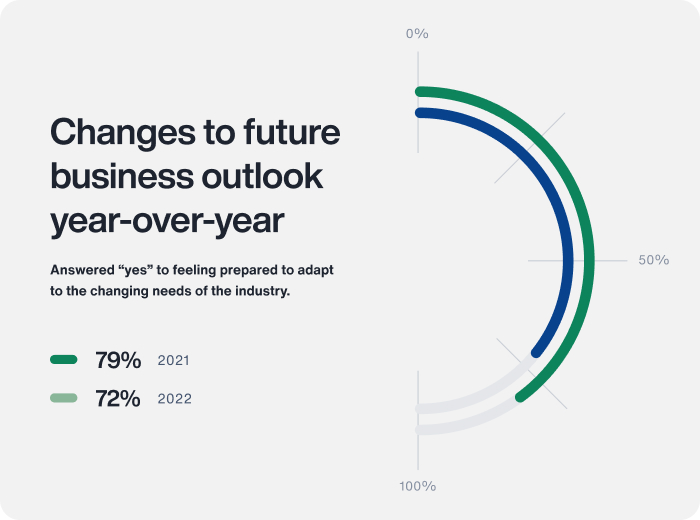 Of the respondents, 84% who were satisfied with their software said they felt prepared, whereas only 37% of those who were dissatisfied said they felt prepared. Satisfied respondents also appeared to have more comprehensive solutions, which suggests leveraging more technologies improves customer satisfaction and may help fuel optimism for their business's outlook.
Business outlook also impacted net operating income (NOI), as those who were dissatisfied with their software were nearly twice as likely to expect NOI to decrease in 2023, and less than a third (30%) expect NOI to increase, compared to more than half (54%) of respondents who were satisfied with their software. 
Businesses want to adopt more technologies
As mentioned previously, businesses that use more tech tools generally feel more prepared for the future than those that don't. Among those that had not adopted technology, almost 70% planned to adopt mobile communication tools. This was followed by online architectural requests (64%), online voting (61%), and online maintenance requests (60%). Last year, respondents were more likely to say they planned to adopt mobile communication tools, online voting, and violations software. 
The challenges and priorities of association management businesses have changed slightly since 2021; however, meeting customers' needs and expectations remains a major challenge and priority. Technology and software satisfaction largely impact a business's outlook on the future and whether it feels prepared. To uncover the rest of the findings from the survey and see how you can overcome these challenges and position your business for success, download the full report: 2022 association management industry pulse.