Last modified on June 16th, 2017
By Aimee Miller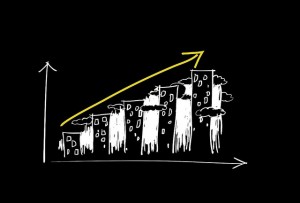 [Updated 4/25/2016]
While raising rent probably isn't on any landlord's list of fun ways to spend their day — given that tenants won't exactly respond to the news with happy excitement— it's a necessary part of property management.
Here are the top 5 reasons to consider raising rent.
1. Keeping Up With the Market
One of the best reasons to raise the rent is keeping up with the local real estate market. A 2013 report on the rental housing market from the U.S. Census Bureau indicates that the rental market continues to tighten across the country, with prices increasing as demand rises. The September, 2013 report from the Bureau of Labor Statistics indicates that the rent index continues to increase by .02% per month, as it has for some time. In fact, the vacancy rate is the lowest it's been in more than a decade at about 4.2 percent, says Reuters.
Taken together, these statistics all indicate that when you decide to raise rents, you'll be in good company. One of the easiest ways to determine whether your rental rates are commensurate with local rates is by using our rent comparison tool. It's easy-to-use and will allow you to evaluate your rental rates as compared to other, similar rental properties in your area.
2. Neighborhood Enhancement
As neighborhoods change and improve, your rent should follow suit. When new businesses and services come into an area, it can make a community much more attractive, changing a location from simply acceptable to desirable — bringing property values up along with them. Your rental rates should reflect this. Features to consider include:
New businesses, such as grocery stores, eateries and coffee shops
New services, such as libraries and post offices
Public transportation upgrades or new bike trails, running paths, green spaces and parks
3. New Employers
When a large company moves into an area, it'll bring increased job opportunity, increased incomes and a reduced unemployment rate — all factors that help raise housing prices, values and, accordingly, rental rates. People want to live near where they work, so your property will  become more desirable.
4. A Rising Local Economy
Housing markets across the country are experiencing growth as the economy continues its slow, but steady, recovery. In mid-2013, housing prices were up by 18.4 percent over the past 16 months, according to a report in The New York Times. Raising rent to keep up with this increase in housing prices makes financial sense.
5. Property Improvements
When the property owner makes improvements, raising rent to reflect this added value is a no-brainer. Whether they're re-doing the kitchen or bathroom, replacing the carpet or tiles, putting in a new HVAC unit, or landscaping the exterior, changes that add to the property's appeal cost money — and that money should be recouped through higher rental rates.
Breaking the news about raising rent may not be an experience any landlord or property manager looks forward to, but it's a necessity. Our past blog post, The ABC's of Raising Rents and Keeping Tenants, offers tips to help you through this sometimes challenging process.