Last modified on December 27th, 2018
By Elizabeth Millar
Reports. I really find AppFolio's reports useful. Why? Because they provide a user-interface to query data without having to know code. This means that even if you don't know SQL, you can query your data at any time and for almost anything.
We often receive Support Requests from folks who are looking for customized reports. And, since you've asked, then you shall receive! We have provided you the most requested reports, but did you know that you could further customize them to suit your company's needs? And, did you know that you can save these customized reports so that whenever you need the information, at a moment's notice, all you have to do is click on your customized report?
Let's go through a few examples.
Tenant Unpaid Charges Summary Report
What if an owner has decided to sell a property or manage it him or herself? You have gone through the process of wrapping up your books for the property, but there are still a couple of tenants who owe you for back rent. You would rather the hide the property, since you'll no longer be managing it, but you still need to keep track of who owes you what. Allow me to introduce the Tenant Unpaid Charges Summary Report (Reporting > Reports > Tenant Reports)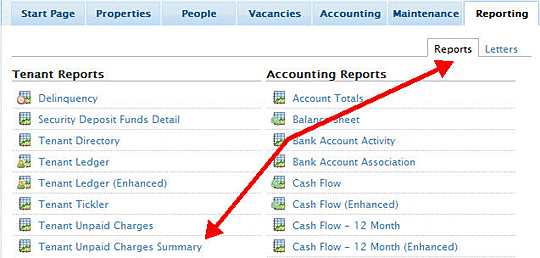 When you open it, by default, it reflects any tenant unpaid charges for Current and Notice tenants, but you can customize it to include All tenants. To do so, look towards the upper-right portion of the report, to the Filters button.
Once you select the Filters button, you will be presented with a window displaying an array of filtering options. When you select a Tenant Status of "All", past tenants (who might also be hidden) will be included in the report.
In addition to this, you can order the report by selecting the Group button to the right of the report. The Group button resembles a little, square window. When clicked, a drop-down will appear which provides you even more options for sorting your reports.

Saving a Customized Report
If you would like to avoid having to customizing a report each time, you can save a customized report as its very own report! Once you've filtered and customized the report to your needs, just click on the "Save" button which is located near the "Filter" button.
After you've renamed and saved your new report, it will appear at the bottom of the Reports screen (Reporting > Reports) under "Saved Reports". Going forward, you can simply click on your new report to view it just as you've customized. If you want to delete the report, just click on the red, minus icon to the right of the report.
Tip: You can customize many of AppFolio's reports just like this!
Tenant Directory Report
Another report you might find handy is the Tenant Directory (Reporting > Reports > Tenant Reports). The Tenant Directory Report functions very similar to a 'roll call'. It lists all of your tenants, along with a variety of other information that you can also Filter and Group to suit your needs.
One question we are often asked is, "How do I tell which tenants have signed up for online rent payments (Tenant ACH) without going to each of their respective windows?" The Tenant Directory report offers the availability to group the report via Tenant Portal Login. You would activate this grouping by expanding the Group drop-down and checking the "Tenant Portal Login" box. The tenant portal column will then be added to the report.
Check Register Detail Report
The last report I'd like to discuss is the Check Register Detail (Reporting > Reports > Transaction Reports). The name is pretty self-explanatory, but did you know that you can filter the report to view only ACH-related transactions?
Click on the Filters button at the top of the window, and then select the drop-down for Payment Type. To narrow your report to reflect only ACH transactions, you would choose the "ACH Payments Only" option.
From there, you have the ability to further customize the report using Groups or Filters. And, just like the Tenant Unpaid Charges Summary report, you can save it as its own report so that you can come back to it at any time without having to re-filter or re-group.
Happy reporting!