Last modified on August 19th, 2019
By Alexis Hammond
Every year, the AppFolio team looks forward to NAA Apartmentalize. But this year, we were especially excited to bring our latest innovations to the show floor. We sent our team to June's event in Denver, Colorado for a memorable opportunity to connect with individuals in our industry and discuss the future of real estate.
With the Apartmentalize experience still fresh on their minds, we sat down with AppFolio's SVP, Nat Kunes and VP of Product, Brian Lebrant, to get their take on the themes and top takeaways from this year's conference. Here's what they had to say:
What were some of your key takeaways from NAA this year?
Nat: "AI was a hot topic. There definitely seemed to be a lot of curiosity and interest around new trends in AI, along with many questions about how this can transform the way real estate businesses operate."
Brian: "Across the board, a focus on selecting the right tech stack components, connecting them via open APIs and integrations, and finding the best approaches to this seemed to be a prevalent topic at the show and in sessions."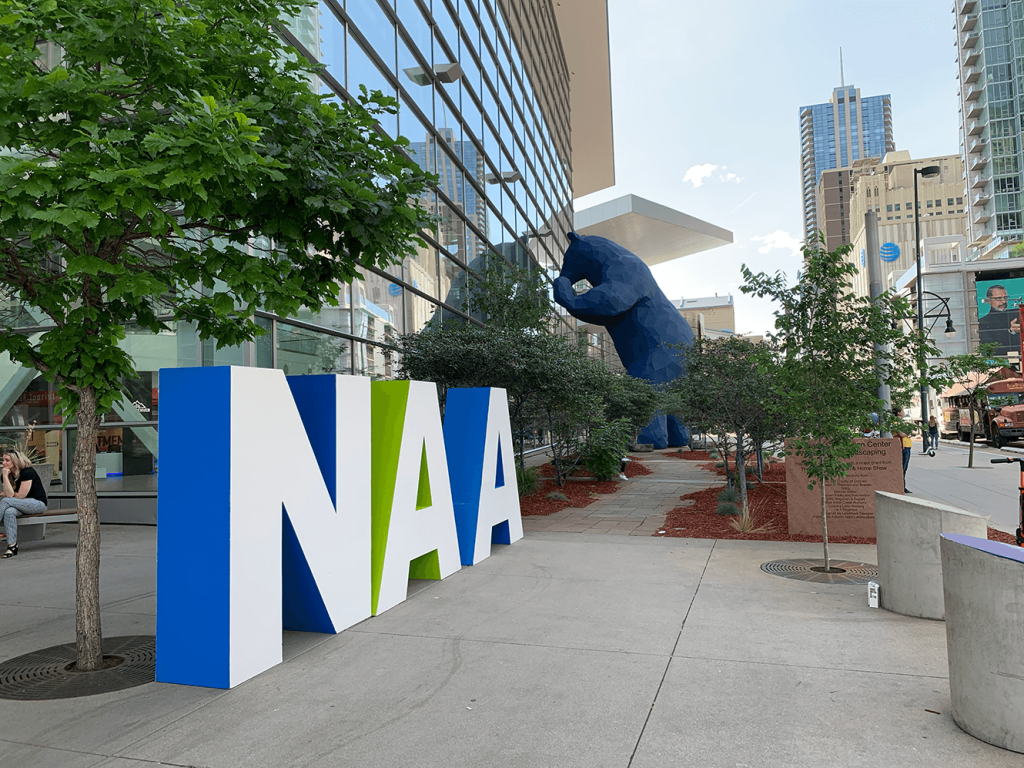 Brian: "Also, as we've seen in years past, the need for data and insights continues to be a prevalent and powerful topic for the industry. There's a challenge facing the industry relating to accurate and accessible data and insight.
Nat: "Finally, we noticed that many vendors arrived with a large, flashy and dispersed presence on the show floor. AppFolio's approach to this was a bit different."
Let's talk about AI. What were some of the trends you saw at Apartmentalize, and what do you believe will be the impact on the industry?
Nat: "Artificial intelligence is certainly a hot topic right now in the world of real estate, as it is in every other industry. There are some big questions swirling around, as well as some fear, about what this technological shift is going to mean for real estate professionals.
Some of the uncertainty I was seeing out there was about whether artificial intelligence will replace much of the human element in the real estate industry.
The truth is, artificial intelligence really shouldn't be thought of as a way to remove the human element in real estate. That would be a big mistake, because artificial intelligence can actually unlock the potential of customer-centric businesses. It can do this by enhancing people's capabilities, and freeing up time to focus on insights, strategic decision-making, and personalized customer service.
While there are some things that machines are better at than humans, like data collection and performing repetitive tasks, there are so many ways that a human can outshine AI by providing that warm, personal connection for your customers and gathering insights to make the right decisions for your business. AI just gives them more time to do those things, by automating those repetitive tasks to give them their time back."
Brian: "Exactly. And that's one reason why we were so excited to show our latest innovation in this area at Apartmentalize. During the exhibition, we had the chance to demo our brand new AI Leasing Assistant Lisa on the show floor.
Leasing is a great example of how AI technology can solve an existing problem in real estate, which is the growing challenge of unanswered rental inquiries. About 40% of incoming leads go completely unanswered, and this is happening because leasing agents simply can't respond to the growing volume of leads coming from 3rd party listing sites. At the same time, responding to these leads is incredibly time-consuming, and agents usually find themselves answering the same questions over and over for prospects who didn't fully read the marketing description.
AI can actually provide the perfect solution to this problem for leasing staff and for residents, while also collecting the end to end leasing data you need to make informed decisions that help you drive further optimization and efficiency.
Our AI Leasing Assistant Lisa automates all leasing communication, working around the clock as part of your leasing team. We saw a lot of "bots" and "canned response" technology out there, posing as AI, but true AI is conversational and constantly learning and getting better. As an example of true conversational AI, Lisa quickly and consistently provides thoughtful, friendly answers to renter's questions, and she can even book or reschedule showings, qualify prospects, and cross-sell other available units, while continually learning over time from her interactions.
It's a great example of how AI technology can augment the capabilities of a human leasing team, giving them more time to focus on showings and personalized service rather than responding with the same answers over and over to unqualified leads."
Can you talk a little more about the tech stack and API integration themes you heard, and what AppFolio's approach to this is?
Brian: "There was a lot of discussion around best practices for developing the right tech stack and what the best approach is. Many spoke about the right systems being a connected set of 'best in breed' solutions, exchanging information with one another via open APIs, allowing for every conceivable integration with other systems. We believe the answer is somewhere in the middle to strike the right balance.
What we've seen with the "every conceivable integrations approach" is that it can have unforeseen consequences, including bad data, wasted time, and systems that don't truly work together. With so many different systems collecting and storing business data in different locations, it also becomes difficult to obtain a single source of truth. Sometimes, these systems actually display conflicting data. In other cases, they simply require hours of manual data extraction and spreadsheet magic to get a holistic view of everything in your business.
To top it off, relying on a cobbled-together system of interconnected tools also leaves your business vulnerable from a technical standpoint — all it takes is one API issue to cause significant problems, including lost data and productivity.
We actually saw a key example of this during several of the event's sessions. A few speakers relied on a tool for live polling, but it didn't work in the live setting. Sure enough, if you looked at the small print, it was an API breakdown.
That's exactly why we are more thoughtful and strategic in our approach to integrations. We believe in delivering an exceptional experience by bringing together all the data and tools you need to run your business and gain insight, in one place.
Rather than building an infrastructure that requires you to string together a collection of so-called "best-in-breed" solutions, at AppFolio we focus on building a partnership that can deliver a far superior customer experience from a single, accountable provider.
Accountability is key, because one of the things we see frequently is that property managers are wasting time searching for answers and getting bounced from one provider to the next whenever an issue occurs. It's a nightmare trying to figure out which one is responsible when a part of your system fails.
Instead, we deliberately focus on providing the best possible functionality, award-winning service, and more strategic and thoughtful integrations designed to keep our customers competitive and poised for the future. Whenever our customers have questions, they never have to wonder who they should call — they know we are their technology partner, and we're here to provide comprehensive solutions that work for the long haul, no matter what the challenge may be."
Nat: "That's right. When it comes to new solutions that our customers need, we tend to look at those on individual basis. We are constantly asking, "How can we provide the best experience for that particular use case?"
So, instead of building a generic API structure that provides the bare minimum in terms of functionality so that it can work with as many different vendors as possible, instead we focus on particular vendors that we can partner up with.
This allows us to identify providers who truly are "best in breed," and develop a deeper, long-term relationship with them.
Right now, we actually have hundreds of integrations with different vendors behind-the-scenes. We are very public with some of them, but there are many others enabling our customers behind-the-scenes as well. We are proud to work with every single one of these vendors, because they were selected intentionally to meet the needs that our customers told us they have.
To do this right, we're always listening to our customers. Over and over, you'll hear us say, 'What's the problem we're trying to solve? Let's figure out a way to solve it together for the long term.'"
You talked about data and insights as another key trend, what are some of the challenges the industry is facing in the area, and what solutions do you see?
Brian: "I think that access to data and insights is intrinsically tied to the thoughtful integrations and our overall approach to this, as well as the AI advancements we mentioned earlier. Like Nat and I talked about, the trend towards multiple connected systems and integrations is causing the industry a lot of pain. One of the key reasons behind this is because it makes it so difficult to access all of your data within a complete, streamlined system that you have confidence is accurate and real-time.
Without that confidence in you data, as a leader it is so hard to get the insight that you need to make the right decisions for your business. You just can't solve problems like inconsistent team performance, inefficient marketing spend, or customer service gaps without a simple view of everything together in one place.
The power behind our approach to technology and service is you get that end-to-end single source of truth for the data and insights you need to make strategic decisions for your business.
This is another area where AI can really make a difference. By implementing AI for data collection and processing, you can actually generate perfect data by eliminating human error and pulling insights at a higher pace and volume. With the data gathering and reporting tools built into a tool like Lisa, you don't have to wait for a person to enter new data, pull up-to-the-moment data from the system, or compile multiple versions of a report. This means you have all the reporting capabilities you need in one tool and instant access to real-time data.
Can you tell us more about what the overall presence was like on the show floor, and what is AppFolio's mindset when planning their presence there?
Brian: "Like Nat mentioned, there was a lot going on. We even noticed large literal "circuses" on the floor. Trade show exhibitions like this one are usually about who can draw the most attention and excitement. Many businesses do this by adding flashy elements to their booth, like entertainers, bartenders, prizes, or insane swag giveaways.
But overall, I felt that it was hard to decipher what the message or takeaway was from these displays. Sure, they grab the attention of passersby, but are they helping attendees to solve the real, tangible problems in their business?"
Nat: "That's why our booth was a bit different. We believe in focusing on simple, modern and exceptional experiences for our customers. For us, we don't really feel the need to overload the experience with more gimmicks and prizes. We go to NAA to make a real connection with individuals in our industry, and to speak about the innovations and wave of the future that will have dramatic impact on the lives and businesses of attendees and the real estate industry as a whole. I think that the visitors who stopped by and did a live demo of our AI Leasing Assistant Lisa, or who spoke with our product experts and other team members, probably got more lasting value for their business out of that experience than they did at some of the other carnival-inspired booths at the exhibition."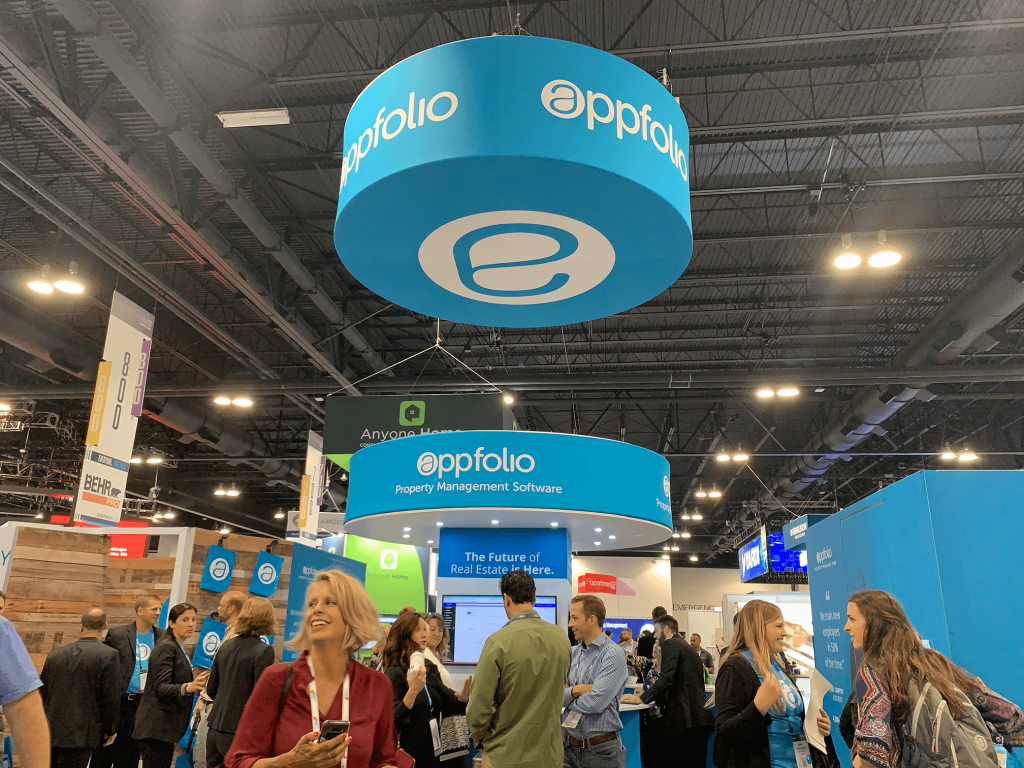 Any final thoughts?
Nat: "NAA Apartmentalize is one of my all-time favorite industry events. Everyone at AppFolio loves the quality education and inspiration put out by the team at NAA — and we want to thank them for putting on such an amazing event. I'm already looking forward to next year… Boston, here we come!"
Brian: "Couldn't agree more, Nat. NAA Apartmentalize is a great place to get a pulse on the industry, and personally I look forward every year to our product team making real connections with our customers and better understanding what's going on in the market. This was the perfect venue to share our new AI Leasing Assistant with the industry. Buckle up for even more exciting innovations next year!"