Last modified on May 12th, 2017
By Christina Burch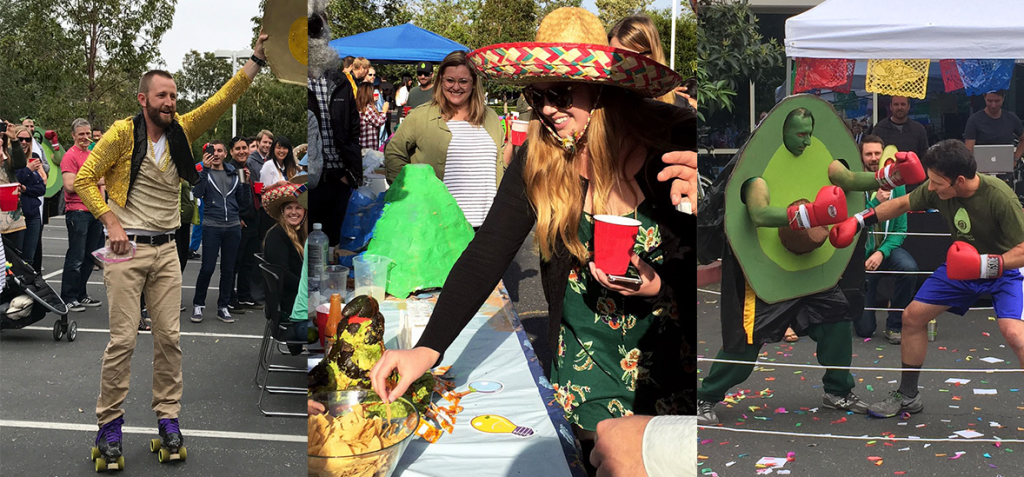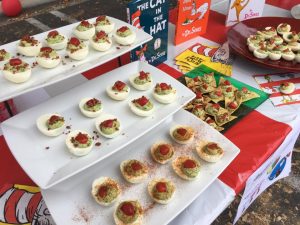 A rowdy gathering of oompa loompas, Ancient Romans and Nintendo characters descended upon 50 Castilian Drive last Friday as AppFolians celebrated the 6th Annual Avocado Takedown. Armed with a bounty of fresh avocados and the culinary creativity to match, fifteen teams duked it out in hopes of being crowned guacamole champions. Who will go home with Best Presentation? Most Unique Ingredient? May the best guac win.
The heated battle starring everyone's favorite Chipotle add-on started out as a fun way to use up a Board member's hefty supply of homegrown avocados. But the event has largely evolved — perhaps apparent in this year's addition of a catwalk, fog machine and live, exploding volcano.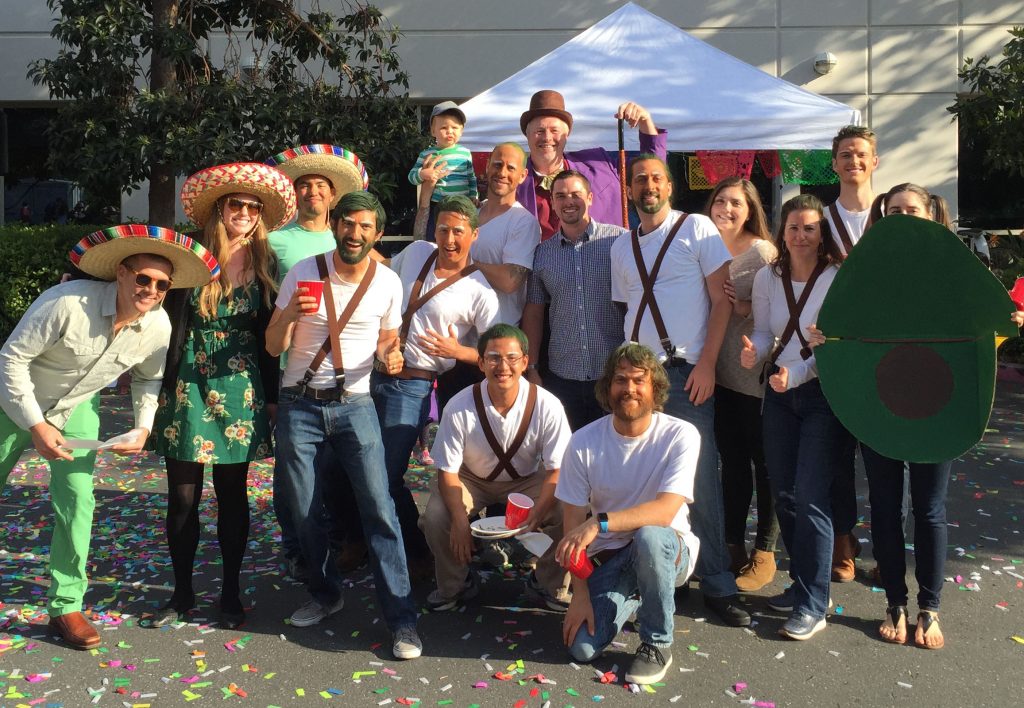 "That's the greatest thing about working with amazingly smart people," said Marc Duncan, Customer Success Manager. "They get pretty creative."
Here are some highlights from this year's line-up:
Lady GuaGua, played by Harrison Marshall from the Customer Success team, wore a dress covered in smashed avocados (skins included) and sang one of her "greatest pits," Avo-avo-cado. GuaGua's glammed-up guacamole featured edible glitter.
The Super Molio Brothers jumped their way through a 2-D Super Mario Land and encouraged judges to "Mangia!" their Italian-inspired guacamole sprinkled with pancetta.
Guacky II returned for a recap of the famed duel between Gaucky Balboa and Avocado Creed. Freeze-frame boxing accompanied by narration made for a very dramatic retelling of the classic face-off.
Team Harry Pitter and The Guaclet of Fire featured a large cast of Hogwarts favorites and some broom-diving adventure. Their Dragon's Breath guacamole was peppered with Flamin' Hot Cheetos.
The AvoMash.com app offered a lonely avocado the chance to find true love by swiping right or left in search for the perfect pairing. Fan favorites like sriracha and pineapple made the cut, while more questionable candidates, like Mayonnaise, did not. Their guacamole featured a new and exciting match: strawberries.
After much deliberation and many Tostito scoops, the judges announced the winners (Note: ties between 1st and 2nd Place were settled with a dance-off):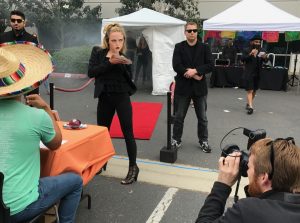 Best Presentation: New 'Guac' Fashion Week — A fog machine and full catwalk accompanied these AppFolian models, each holding a prized guacamole ingredient as they strutted their stuff and posed for photographers.
Most Unique Ingredient(s): Chocolate & Pop Rocks from Charlie And The Guacolate Factory — the only team brave enough to feature sweet treats to make this candy-inspired creation.
Best Tasting Guacamole: The Guaciator — The super fresh mediterranean-style guac was made with olive oil, sun dried tomatoes, kalamata olives, lemon, parsley and feta (and extra pita bread to polish it off).
AppFolio teams in Dallas and San Diego also celebrated the Takedown with originals like "Bobacado," avocado boba sprinkled atop chips and salsa, and "Half Guac'd," a reverse hamburger with avocado halves used as burger buns.
"We had the hardest time deciding," said Gracie Boelsems, Events Specialist and one of this year's lucky judges. "Everyone really set the bar high, and we really appreciated the hard work and effort each team put into it. I loved being a judge and ​seeing the evolution of Avo Takedown over the past four years!"
The AppFolio family continued their celebration of camaraderie and cross-departmental collaboration with tacos (and avocado swag for the winners), and reflecting on last year's highlights.
Clearly, the 'cados have since captured the hearts of the entire AppFolio community and solidified their place as a beloved tradition.