Last modified on December 30th, 2013
By Stephanie Vernon
Last month we received a great email from DeSimone Real Estate Services, which currently manages over 450 units in Ocala, Florida and uses AppFolio's property management software. They had sent us pictures of their office celebrating their 1-year anniversary with AppFolio (They even made a cake!)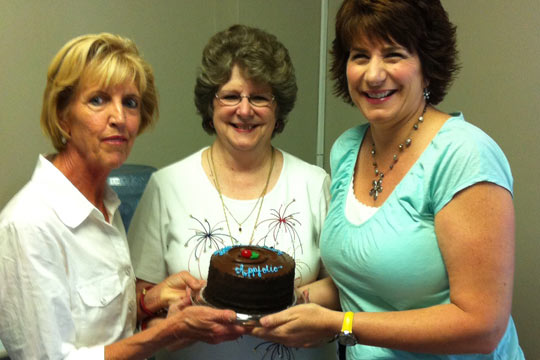 We love hearing success stories, so we asked DeSimone Real Estate Services to share with us how AppFolio has impacted their business over the past year – they were kind enough to get the entire office involved.
Here are a few of the nice things that they had to say about AppFolio:
"Can't wait to start working from the BEACH!  Thanks for giving me most of my Saturdays back!" – Dale DeSimone (Owner)
"I have been using AppFolio for just over a year. I am extremely happy with it. It is user friendly and works great with all aspects of property management. AppFolio allows quick access to information and makes processing applications, doing work orders and tenant notification quick and easy. Organizing and paying bills can be done fast and effectively. The feature allowing tenants to pay on line is a time saver for both tenants and us. What I like and appreciate most about AppFolio is the help provided. Help requests are answered quickly by staff all of whom are knowledgeable, professional, patient and friendly."  – Happy DeSimone
"As a receptionist in a busy property management office where interruptions are the order of the day, having user-friendly software is a "must."  AppFolio helps order my day and keeps me on track when I am constantly being interrupted.  We have also found that when we do encounter a problem, support is quick and extremely helpful.  The more I use AppFolio, the more impressed I am with the product.  Thanks AppFolio!" – Jan Move (Receptionist)
"I love how AppFolio has increased our organization and data accuracy. Personally, I think that organization is one of the most important keys to success in any business- without it things easily become chaotic, data is lost, valuable time and other resources are wasted, redundancies occur,  and errors occur. AppFolio has vastly improved our organization, thus eliminating many resultant hindrances that occur from the lack thereof. We have seen so many improvements since the implementation of AppFolio, it has been a wonderful tool, and it is not complicated to use either- I love how user friendly AppFolio is."  – Maria Owens
"I have worked for DeSimone Real Estate for 10 years.  So, I can see what a huge difference AppFolio has made for our company.  Prior to going to AppFolio July 2012, we did not use a Property Management Software.  All of our reports were manually input into LOTUS (for those that don't know what Lotus is…it is a spreadsheet program like Excel…only much older and no one uses it anymore!).  Things were input 2 and 3 times to do one owner's report.  Imagine doing that for 23 owners!  All checks were handwritten, as well as work orders, etc.  Having AppFolio has made a huge difference in our lives." – Vicki Prendergast
Congratulations to DeSimone Real Estate Services on your 1-year AppFolio anniversary. Here's to another great year!