Last modified on July 12th, 2017
By Christina Burch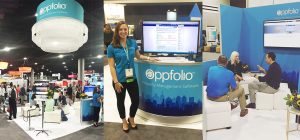 AppFolio wrapped up June and the end of the quarter in style at the National Apartment Association's Education Conference & Exposition, along with happy customers and industry leaders in Atlanta.
AppFolio joined NAA, a leading voice for the apartment housing industry, for its four-day event, including 60 sessions, 3 keynote presentations, and 6 Game Changer speakers. In addition to AppFolio's main booth and fan-favorite Genius Bar, this year featured an Executive Lounge, where attendees had the opportunity to sit down with support from Sales, Customer Success, Value Added Services, and Product for one-on-one appointments to address specific software needs and questions.
AppFolio representatives welcomed the additional spaces and the chance to interact with prospective and current AppFolio customers.
"Every team I met with showed appreciation for the extra attention," said Alicia Marchant, Value Added Account Manager. "The intimate setting allowed us to have more in-depth conversations without interruption or distraction."
"The Executive Lounge was amazing to be able to focus directly on the specific companies that we were meeting with," said Matt Kreuter, Senior Key Account Executive, who called the conference a huge success.
Additional highlights from the event included an Appo-Tini, the networking meet-and-greet appropriately named after AppFolio's signature cocktail, where AppFolio customers and interested prospects talked product, upping their management game, and looking forward to new features and portfolio growth.
"The breadth of resources, vendors, training sessions, and events make for a complete experience," said Alicia Marchant. "I can see why people fly in from all over the country to attend."
You can learn more about the National Apartment Association and it's annual conference at www.naahq.org/education-conference. For more on AppFolio's streamlined property management software solution, visit www.appfolio.com.