Last modified on April 7th, 2020
By Brittany Benz
During this time of social distancing due to COVID-19, many are working from home — including our entire team here at AppFolio. While this change hasn't been easy, it has brought us even closer together and motivated us to think of new ways to stay engaged with one another. It has also made us appreciate the value of having a strong company culture, and how in moments like these it can really shine through. 
As a SaaS company, technology has always been a big part of our daily lives at the office. We have used services like Slack, GoToMeeting, and Zoom regularly to communicate, but now they have proven to be especially powerful. From taking meaningful breaks to sharing with others, here are just a few of the ways AppFolians are staying connected while working from home:
Taking Meaningful Breaks
Fika: With the absence of spontaneous meet-ups in the office kitchen, AppFolians have turned to virtual means of connecting with the Swedish tradition of Fika. Often translated as "a coffee and cake break," Fika is an important part of Swedish culture. It means making time for friends and colleagues to share a cup of coffee (or tea) and a little something to eat. Now twice a day — once in the morning and once in the afternoon — teams have been meeting on Zoom for 15 minutes to chat and enjoy a snack or cup of coffee together. 
Virtual Happy Hours: At AppFolio, we firmly believe in the philosophy of "work hard, play hard," and generally host monthly happy hours to celebrate accomplishments and bond as a team. With bars and restaurants closed, we've had to get creative at home. Now on Fridays multiple teams host virtual happy hours on Zoom or GoToMeeting. Team members are also assigned a different group each time, so they get to talk to new people. 
Connecting Through Competition
Morning Trivia: It has been a daily ritual at the office for the marketing team to gather around each morning to try and answer the day's trivia question. With the office being closed, this has now moved online. Every morning teams sign into GoToMeeting to participate. In addition to saying their answers out loud, they also type them into a dedicated morning trivia Slack channel. The winner even gets a virtual trophy (along with bragging rights).
Online Bingo: Some AppFolians have been engaging in a little friendly competition by the way of virtual games. For instance, the services team at AppFolio recently hosted a bingo game using Zoom. Each member of the team had a digital bingo chart and a manager read out the answers until a winner was declared.
Contests: To stay engaged other teams have held contests. For instance, the onboarding team had a Zoom background contest in one of their standups, challenging people to create the best background. From outer space to tropical beaches, the backgrounds made the meeting much more interesting and gave everyone a laugh.
Video Challenges: The next two weeks the marketing team is hosting a video challenge, asking team members to submit a short video of them doing something outside their comfort zone. While the entries have yet to be reviewed, early submissions have shown everything from dancing to comedy skits.
Sharing With Others 
Slack Channels: Various slack channels have been created over the years for AppFolians to share photos, ideas, and tips. For instance, there's a Slack channel dubbed "Puparazzi" that is exclusively for AppFolians to post photos of their dogs. As a dog friendly workplace, many miss interacting with their canine coworkers, so having this channel has given everyone a chance to partake in pet therapy. On other group channels people have been sharing their tips and tricks for working from home, and helpful tech tools such as break reminder, exercise, and mute background noise apps.
With schools and daycares closed, many AppFolians have young children at home, which sometimes makes it difficult to conduct meetings and get work done. To provide support, a slack channel called "Workingfromhome-parents" was created as a resource for fellow Appfolians to share tips and advice on parenting while working remotely. For instance, one parent shared the special moment of getting to see her one-year-old son take his first steps. 
Maintaining Communication
Weekly and Daily Standups: Without in-person meetings at the office, we have found that communicating clearly, effectively, and often is especially important now. To do this, teams have been hosting weekly and daily standups virtually on GotoMeeting and Zoom to go over projects and align on initiatives. This also gives everyone a chance to let the group know what they are working on and ask any questions. For more tips on maintaining communication and productivity, check out our blog post on 7 Ways to Drive Collaboration & Engagement With Your Teams While Working From Home.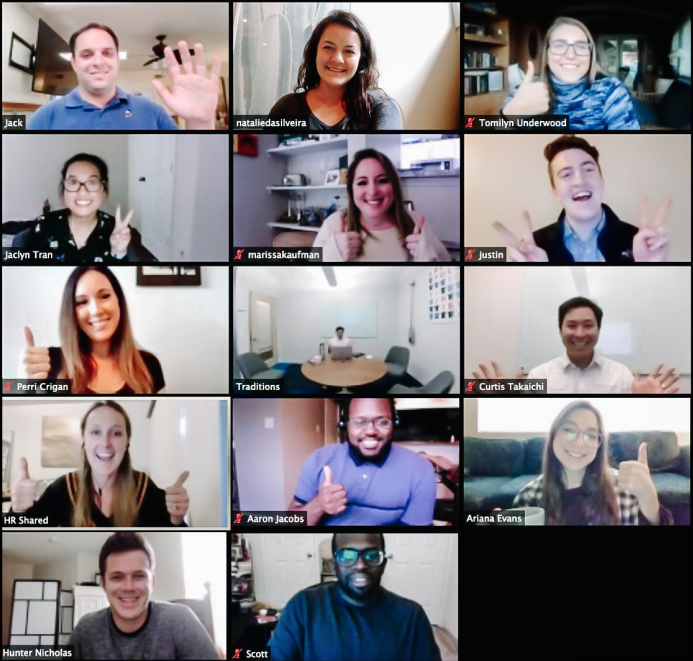 Social distancing has presented some challenges for us at AppFolio, but it has also provided new and creative opportunities for us to stay engaged with one another. To keep your teams connected and positive during this time, consider implementing one or more of these activities into your company's weekly routine. In addition, use video conferencing services such as GoToMeeting, Zoom, or Skype to ensure you're still communicating face-to-face as a team. You can also try using a chat service with messaging channels, like Slack, to make it easier to communicate as a group. Together, you can get through this difficult time, and come out stronger than ever.