Last modified on March 25th, 2021
By Brittany Benz
Events have always played a large role in the real estate industry. From annual conferences and trade shows to peer meetups, events provide the opportunity to learn from others, stay up-to-date with the latest trends and technologies, and provide a space to network with fellow industry professionals. 
Many events have been cancelled or put on hold over the last year, but in response the industry has pivoted by creating new and exciting opportunities to connect in a virtual environment. The survival of your association management or property management business depends on staying in tune with the changing needs of the industry, and by attending virtual events you can get the insights and advice you need to stay successful.  Read on to discover the benefits of attending virtual industry events, how you can make the most of them, and to find out about upcoming events.
4 Benefits of Attending Virtual Events
Below are just a few of the many perks of participating in virtual industry events.
1.) More Accessible & Flexible
One of the biggest benefits of virtual industry events is that they are accessible from anywhere. This not only makes it easier on your schedule, but also enables you to invite your whole team to join. Many virtual events are also recorded too, so even if you can't make the live session, you can often watch the recording at a later date and still reap the benefits.
2.) Time & Money Savings
With virtual events you don't have to spend time and money on travel and accommodations. You can attend right from the comfort of your office or home, so you can use the time saved to focus on putting the learnings from the event to good use.
3.) Opportunity to Hear From Experts
Because virtual events can be accessible from anywhere, they often feature real estate experts that may otherwise not have been able to attend an in-person event. These high-profile industry leaders can provide valuable information and insights on how the market is changing and what you can do to prepare for the future.
4.) Unique Interactive Features
The virtual events of today are much more advanced than they were in the past. Now many include ways to network virtually through one-on-one or group discussions, using networking platforms, such as Braindate™. In addition, some conferences are leveraging virtual reality technology. For instance, the California Association of Community Managers hosts events through CMworld™, a virtual world platform that simulates real-life interactions complete with avatars.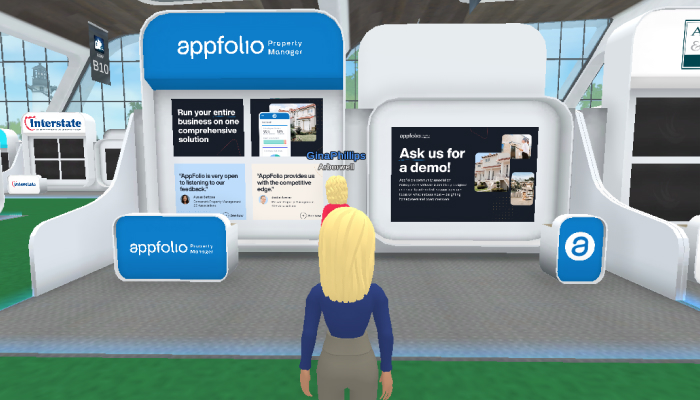 Tips for Getting the Most Out of Virtual Events
Once you've made a plan to attend a virtual event, follow these key tips to get the most out of your experience.
Check your email:

Be on the lookout for important updates, reminders, exclusive content, and helpful information prior, during, and after the event.

Be present:

Treat virtual events just as you would in-person events by attending the full session, actively participating, and taking the time out of your day to truly be present.

Eliminate distractions:

Turn off email, chat, and text notifications, set up an email autoresponder, and be sure to inform your team the time and date(s) you will be attending the virtual event.

Try something new:

Take advantage of any interactive features offered at the virtual event, such as Braindates, chat or hand raising capabilities, virtual reality opportunities, and more.
Don't wait for in-person events to open back up, take advantage of the many virtual industry events available today and use the learnings and insights to future-proof your business.
Upcoming Events for Association Management
CAI Bay Area & Central Chapter "Hot Topics: What Every Community Manager Needs to Know"
Date: April 23, 2021
About: Get face time with key business partners and increase your staff's knowledge of new and up-to-date industry issues and best practices at this virtual speed networking event.
CAI IL Condo-HOA Conference & Expo
Date: April 27-30, 2021
About: Offers various education sessions on legal updates, innovative trends, and industry best practices, as well as opportunities to share, learn, network, and discuss challenges and solutions. 
Date: May 12-13, 2021
About: Meet the people leading the industry transformation as they share the latest insights, innovations, and trends you need to stay ahead of the competition. There will be special sessions geared towards association management covering topics such as serving homeowners of today and tomorrow, building connected and sustainable communities, and more! In addition, you'll have the opportunity to network with fellow peers through one-on-one and group discussions.
Upcoming Events for Residential Property Management
IREM Virtual Chapter Leadership Retreat
Date: April 26-38, 2021
About: Gain valuable, forward-thinking knowledge and share best practices to reinvent your approach to chapter leadership and management and re-engage to grow your leadership skills at this three-day virtual retreat.
Date: May 12-13, 2021
About: Meet the people leading the industry transformation as they share the latest insights, innovations, and trends you need to stay ahead of the competition. This event will include numerous sessions tailored to residential property management, including topics on shifting resident preferences, healthy building technology, and more!
NARPM Legislative and Educational Conference
Date: May 17-18, 2021
About: This event will be a hybrid (both virtual and in-person). Keep checking the event's website for more information.